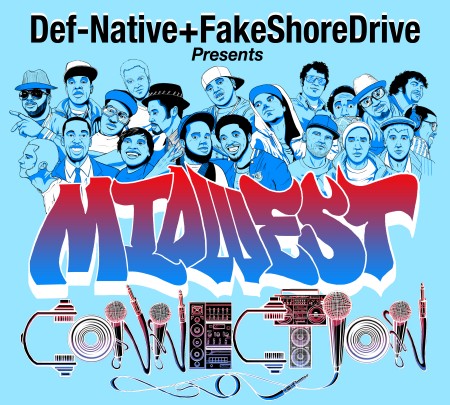 I'm happy to announce a project I'm cosigning from my homie Robby Barnett and Def-Native, a collection of new music from up-and-coming Midwest artists.  Check the cover and see if you can pick out any familiar faces.  It's a Midwest thang!
I'll let Robby tell it…
The Midwest Connection is not only a platform for music fans to hear all the newest songs from up and coming midwest hip hop artists… but it also lays the groundwork for cross-city collaborations that otherwise might not have been possible. Fake Shore Drive and Def-Native clothing bring to you the hottest mixtape of the summer, the beginning of a movement that could only have spawned on the shores of the great lakes. The project was started when members of Def-Native and the L Camp got tired of the disconnect between midwest cities and decided we could use one unified front. The tape features some established heavy hitting names such as Twista and Chuck Inglish, while spotlighting the biggest names you've never heard like: Zai, Jordan Looney, the L Camp, and more. Stayed tuned for a vol. 2 with even more artists and info on the release party!!