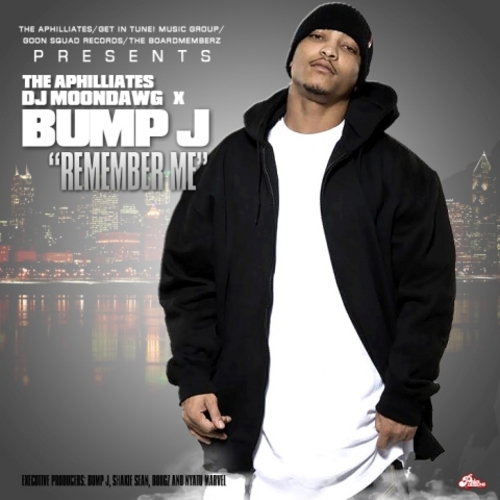 Presented by The Aphilliates/Get In Tune Music Group/Goon Squad Records/Boardmemberz
It's been a very long time since we've heard some new Bump J material, but best believe that the Chief of Chicago has a plethora of unreleased and never-before-heard music.  Unreleased joints produced by Kanye West, Sha Money XL, Mel Man, Jelly Roll, Boardmemberz and Xtreme all appear on this mixtape, put together by DJ MoonDawg.  One song in particular that was included here, which very few have had is the much heralded "Letter To My Competition" produced by No ID.
19 tracks (some you've heard, some you haven't) from a true Chi-Town legend, including a freestyle from the Feds.  Download and tell a friend to tell a friend.  Remember the Chief.  Hit the jump for the tracklist.
Bump J x DJ MoonDawg – Remember Me [Alternative Box.net Link]
1. The Intro (prod by Xtreme)
2.Letter 2 My Competition (prod by No ID)
3.Live From The Feds (Freestyle)
4.Hey Joe (prod by Mystro)
5.Bye, Bye (prod by Indiana Jones)
6.Noboday Eats (prod by Kanye West)
7.Our Father (prod by Aqua)
8.Not Wit Me (prod by Sha Money XL)
9.Goon Squad Anthem (prod by Xtreme
10.Story of my Life (prod by Red Spyder)
11.Spot Em, Got Em (prod by The Boardmemberz)
12.Get Down (prod by Mystro)
13.This Is The Life (prod by The Boardmemberz)
14.This Is War (prod by Jellyroll)
15.Gunplay
16.Chicago State of Mind
17.Ride or Die (prod by The BoardMemberz)
18.Tomorrow (prod by Kanye West)
19.Gangsta Sho Nuff (prod by Mel-Man)