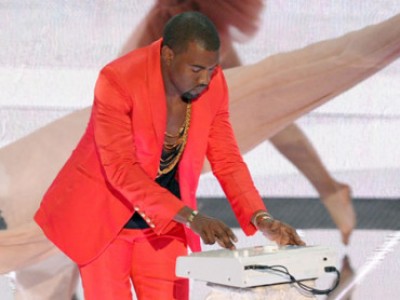 Earlier today, I stumbled across an article by Nick Sylvester @ Thirteen.org entitled How Kanye West's Online Triumphs Have Eclipsed Kanye West, which takes a look into Ye's online antics over the past few months.
From joining Twitter, to recruiting a real life Gossip Girl-style blue blood teenager as his stylist – Kanye's name and likeness have had the internets going nuts (No Paul Wall) and continue to make waves daily.  Seriously.  'Ye could fart in the bathtub and it would bring down the house.  Yes, I know that bloggers like myself are part of the problem, but hey, you give the people what they want.  Yes, Ye's online persona has taken him to a new level of icon, but is this a good thing?  Sylvester explores:
If there's a reason I haven't written about Kanye West and his recent online triumphs, maybe it's the feeling that, in the process, I'd somehow be getting played. These triumphs, after all, are in the field of Getting People To Talk About Kanye West. Week after week, he has maintained the spectacle of himself: an eminently retweetable Twitter feed; the blog-baiting novelty collaborations with international pop star Justin Bieber and mere internet pop star Bon Iver too; his well-timed apology to Taylor Swift; the revelation, presumably with his silent nod, that West keeps a blue-blooded Yale undergrad in his inner circle, Cassius Clay, who provides him with fashion tips — news which hit just in time for Fashion Week.

Maybe there are people working with him on these kinds of stunts, but I get the sense that Kanye is generating the lot of these ideas. I imagine he likes being in control of every aspect of the production, the medium being the message and so on. Online he is a wise fool, first playing into people's perceptions of "Kanye West," then off those very perceptions, sending himself up, pulling back his own veil, bringing back the caps lock. Despite many attempts, Kanye West is incapable of being parodied, largely because Kanye West has already figured out a way to be a parody of Kanye West. He can and will and has sublimated all bad press about "Kanye West" into plot points for a much larger storyline that we don't know about. Got Played?

So let's talk about "GOOD Fridays." Punning off his label name and, maybe, a certain controversial Rolling Stone cover, West will deliver a new free track on his Web site every Friday until Christmas. Sometimes West tweets about the tracks leading up to the big day. He also hints at the collaborators weeks in advance, which means West scores both anticipatory blog coverage — theories about what the track might possibly sound like I mean Bon Iver? Will this be anything but a disaster? and so on — and Official Blogger Takes when the internet finally hears the tracks, decides whether they "lived up" to the hype that the bloggers themselves helped create, etc. Keep in mind also that these tracks are released on Fridays, the end of the news cycle, so if it's a dud, no stench will linger. The song will have already done its 'work' for West before it was released anyway, and goes gently into the weekend. Come Sunday, West will rise again.
Read the rest here…