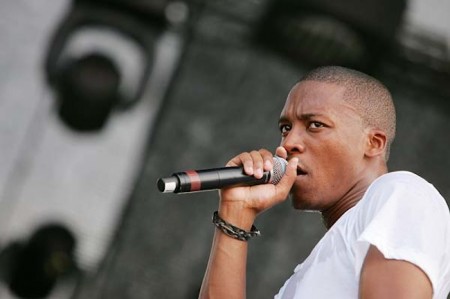 I've heard a slew of  rumors over the past few months as to why Atlantic Records was refusing to release Lupe Fiasco's Lasers, and the most shocking of those seems to be true.  Besides hearing that Atlantic gave a handful of Lupe records to B.O.B. that ended up being massive hits, I'd also heard that they were forcing his hand into a slave deal of sorts.  Well, in an interview with HipHopDX, Lupe confirmed this to be true:
Although he has touched on the topic before, he told fans that Atlantic demanded a 360 deal, including 25% earnings from original music, shows, and outside deals. He explained that, when he declined the offer, Atlantic threatened to withhold money to make music videos, and to not promote his music on the radio.

Lupe also said Atlantic didn't like his music, or as he put it, "They think I'm whack." He told fans that the label sent him hooks to record, and when he completed them, they still did not like them.
Damn.  I guess Atlantic saw the value in Lu's massive and cult-like fanbase, and wanted a piece of that tour money. 
If you're in Chicago and would like to participate in "Fiasco Friday" on October 15th, you can March with other like-minded fans starting at 1:30pm in Grant Park.  Hit the jump for full details…
On October 15th 2010, also know as "Fiasco Friday" A large march will be taking place in New York City also. The New York City march will end up with a Protest at Atlantic Records Headquarters. Mr. Fiasco will be in attendance in New York. With Chicago being his hometown, we figured it would only make sense to March in Support of Fiasco and to draw attention to the situation.

We will begin the march gathering in Grant Park at 1:30PM, near Buckingham Fountain, We will then head towards Michigan Avenue and Continue North along Michigan Avenue until we reach the John Hancock Center where we will turn around and March back to Grant Park. Fans and supporters will be wearing Fiasco attire, carrying picket signs, Chanting, and Spreading the message with any who will listen. We have been quickly gaining support in the week that we have been trying to organize this event.