Directed by Morocco Vaughn
A couple of weeks ago, Flocka was in the Go to shoot a few clips for his Flockaveli album – both of which were shot at Chicago's infamous Bread Factory.  I posted a few behind-the-scenes clips, so it's only right that I share the finished product with you, courtesy of Morocco.
I got with Mo to talk about the vid and he had this to say:
"I've been Chicago's best director for a while, now I want to conquer the country.  And I'm willing to do that by any means necessary"
He's not playing around.
And plus, how could you pass up the opportunity to show GL Joe getting murked out No Country For Old Men-style by Mr. Flame.  Bow, bow, bow, bow.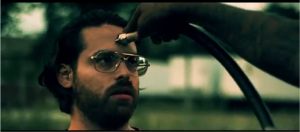 Bonus: Hit the jump to catch Waka Flocka's interview on Power 92 with the Hot Boyz.