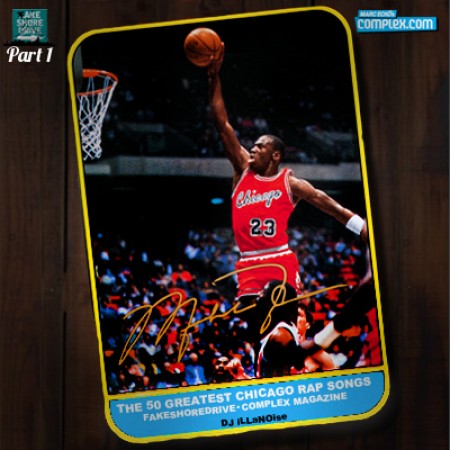 You saw the list yesterday, right?  You couldn't have missed it.  Most loved it, others disagreed – but hey, that's what is beautiful about hip-hop.  After the smoke cleared, the number one request I received was "Can you make a mix of all these songs?".  Always a step ahead, we already had this in the chamber: Mixed and hosted by DJ Jay iLLa a.k.a. iLLaNOise, we created a soundtrack for you to bump to as you stroll down Chicago's memory lane.  The project is a two part set that gives you great mixes and blends of the top 50.  Enjoy, check out the list and spread the news.
The 50 Greatest Chicago Rap Songs [Read]
Follow: iLLaNOise.  Covers by: dopedesigner.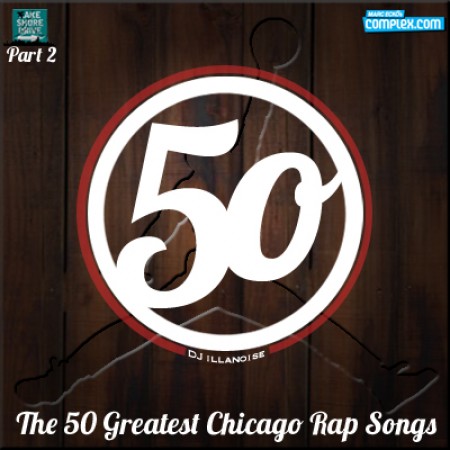 Download link and tracklists below the cut.
iLLaNOise Presents: FSD x Complex Magazine's 50 Greatest Rap Songs
Part 1
1. Kanye West – Jesus Walks
2. Lupe Fiasco – Failure
3. Da Brat – Funkdafied
4. Juice – Freestyle or Written
5. Crucial Conflict – Rodeo
6. Grav – City To City
7. Just Ro feat. Common – Confusion
8. Bump J – Move Around
9. No I.D. feat. Common & Dug Infinite – State To State
10. Twista – Adrenaline Rush
11. PsychoDrama – Magic
12. Do or Die feat. Twista & Johnny P – Po Pimp
13. Infamous Syndicate – Here I Go
14. GLC – I Ain't Even On Yet
15. Shawnna – Gettin' Some
16. The Cool Kids – Black Mags
17. Kidz In The Hall – Drivin' Down The Block
18. D.A. Smart – Walk Wit Me
19. Payroll – Never Change
20. All Natural – 50 Years
21. Lupe Fiasco – Superstar
22. Lupe Fiasco – Kick, Push
23. Rhymefest – How We Chill
24. Rhymefest feat. Juice – How We Chill Pt. 2
25. Mikkey Halsted – Liquor Store
Part 2
1. Chaka Khan – Through The Fire (Intro)
2. Kanye West – Through The Wire
3. Common feat. The Last Poets – Corners
4. L.E.P. Bogus Boys – Chicago N****
5. Common – The Bitch In Yoo
6. Common – I Used To Love H.E.R.
7. No I.D. feat. Dug Infinite – The Real Weight
8. Da Brat feat. The Notorious B.I.G & Jermaine Dupri – Da B-Side
9. Yung Berg – Sexy Lady
10. Crucial Conflict – Bogus Mayn
11. Do or Die feat. Twista & Johnny P – Still Po Pimpin'
12. Twista feat. Kanye West & Jamie Foxx – Slow Jamz
13. Twista – Overdose
14. EC Illa – What You Be About
15. EC Illa – On Ill
16. Psychodrama – Do What You Wanna Do
17. Crucial Conflict – Hay
18. Common feat. Kanye West – Southside
19. D 2 Tha S – Doomsday
20. Kanye West – Can't Tell Me Nothin'
21. Common – Soul By The Pound
22. Common – Resurrection (Large Professor Remix)
23. Common – Resurrection
24. Twista & The Speedknot Mobstaz feat. Newsense – Crook County (Bone Crusher)
25. Twista feat. Johnny P – Emotions
26. Do or Die feat. Johnny P – Playa Like Me & You
27. Kanye West – My Way
28. Kanye West feat. John Legend – Home
29. Kanye West feat. Chris Martin – Homecoming