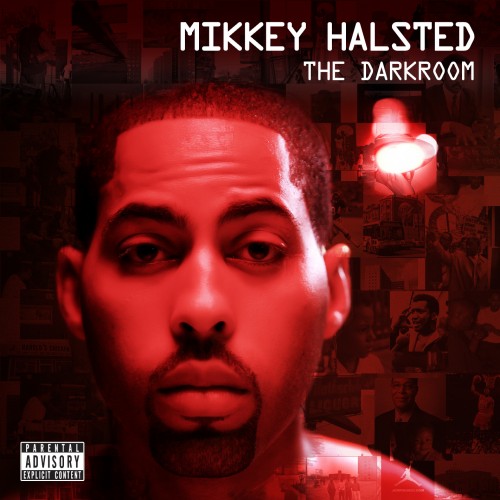 Hey, in case you didn't hear, Mikkey Halsted's highly anticipated album, The Dark Room, finally drops tomorrow.  It's been a long time coming and I'm glad the world is finally going to hear the official debut from Mikkey.  I first went in to the studio with Mikk about three years ago, when he was loosely working on Chicago: The Photo Album, and since then I've heard him create some of the most amazing and intelligent hip-hop music in my 20+ years of being a fan.  I was quickly drawn into his powerful and militant lyrics and also his ear for picking dope and unique beats.  Over the past few years, the public has heard some excellent music from Mikk, but it's always just been the tip of the iceberg, as I knew the world hadn't yet heard his best work – the stuff Mikk was sitting on until the right time.  Well, the time is now, and the album is here.  The drop date is tomorrow, and I urge not only fans of Chicago hip hop, but hip hop fans in general to spend a few dollars and pick it up.  A lot of time, money, blood, sweat and tears went into this project, and I know you won't be disappointed.  Below I'm going to highlight a few of my favorite joints (even though I love the entire project), and you can hit the jump for the full tracklist and production credit lineup.  Be sure to pick up The Dark Room (executive produced by No I.D.) tonight at Leaders1354 (he's hosting an in-store there from 6-8p) or tomorrow on iTunes, Amazon and Rhapsody.
Cameras Ready (Prod. by 1120)
There's a chance you heard an early version of "Cameras Ready" a while back, but in my opinion, there's no better way to kick off an album than this one. Mikk takes you through the entire city of Chicago and gives you a look into what to expect from the album ahead of you.
N****z Just Complain (Prod. by The Legendary Traxster)
Traxster and Mikkey?  Need I say more?   I like to think of this as "Liquor Store Pt. 2", with Mikkey spitting over some classic (and super eerie) Traxster production.   You're really going to love this pairing.
Field N**** Blues feat. Freddie Gibbs & B.J. The Chicago Kid (Prod. by No I.D.)
You loved Mikkey and Freddie's first collabo, "On My Own", right?   Well, throw B.J. The Chicago Kid on the hook and have No I.D. lace a laid back, piano-driven beat and you've got a problem. Look for the Brandon "N2ition" Riley-directed video to drop soon, and really bring this one to life.
Frozen feat. Kamilah Sumner (Prod. by Prolyfic)
When I first heard this track, I immediately hit Prolyfic and told him this sounded like a Tom Petty & The Heartbreakers version of a hip-hop song. Crazy beat, intriguing story, beautiful singing.  A classic tale of a good girl gone bad, who's now gone forever.
Get Money feat. The Cool Kids (Prod. by No I.D.)
No I.D., who produced the bulk of this album, really snapped on this one. Think of his best work from Blueprint 3, mix that with a haunting middle eastern sample and some of the hardest drums you've ever heard and you've got money.   This is perhaps my favorite pairing of Mikkey and Dion ever.  I'm glad this track was guarded closely and wasn't scooped up by a major label artist with a million dollar budget.
Soul of a Gangsta feat. Count (of L.E.P. Bogus Boys), Sly Polaroid & J. Hollins (Prod. by Emmaculate)
Are you kidding me? Three of the hardest spitting emcees to ever rep for the city of Chicago on the same track?  If Bump would've been out to have appeared on this the world would've exploded.
1.) Intro
2.) Cameras Ready (Prod. by 1120)
3.) Interlude
4.) Talk Through Me (Prod. by No I.D.)
5.) N****z Just Complain (Prod. by The Legendary Traxster)
6.) Field N**** Blues feat. Freddie Gibbs & B.J. The Chicago Kid (Prod. by No I.D.)
7.) Talkin' About Freedom (Performed by Syl Johnson)
8.) Respect Mine (Prod. by No I.D.)
9.) Hustlaz Need Love Too (Prod. by David D.A. Doman)
10.) Awthentik (Performed by Awthentik)
11.) Frozen feat. Kamilah Sumner (Prod. by Prolyfic)
12.) First Class (Prod. by Prolyfic)
13.) Get Money feat. The Cool Kids & Jamal Smallz (Prod. by No I.D.)
14.) Reading of the Scripture (Performed by J. Ivy)
15.) Soul of a Gangsta feat. Count (of L.E.P. Bogus Boys), Sly Polaroid & J. Hollins (Prod. by Emmaculate)
16.) Story Unfold (Prod. by Keyzz)
17.) The Exorcist (Prod. by No I.D.)
18.) Runnin' My City feat. Bun B, Killer Mike, Crooked I, Chip Tha Ripper, Gillie Da Kid & Mistah Fab (Prod. by SC)
19.) The Dark Room Skit
20.) Keep Rollin feat. Rico (Prod. by Odd Couple)