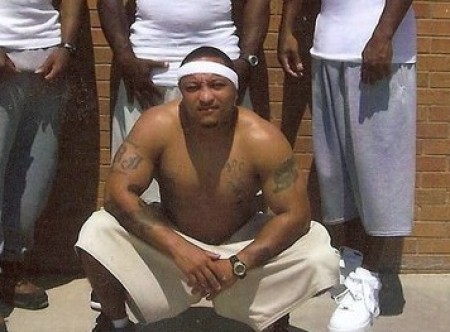 Even the most casual readers of Fake Shore Drive have heard the story of Bump J: Once one of hip-hop's top draft picks and sure fire superstars, Bump's career was shortstopped when he was arrested on Federal bank robbery charges in November of 2008. After losing his million dollar deal with Atlantic Records, and then losing his freedom, most thought Bump had lost it all. But after snagging the first interview with Bump since his incarceration, I realized one thing Bump hadn't lost – and that was his integrity.
Currently serving a ten year bid in a Federal Prison in Big Springs, Texas, I was able to ask Bump the questions you've waited two years for him to answer. Read on as Bump and I discuss his lengthy sentence, his inevitable comeback, his failed deal with Atlantic, No I.D., Kanye West, G.O.O.D. Music and more. The man who once had Nothing To Lose, now has everything to gain back.
Bump, it's good to hear from you, bro. How have you holding up since being incarcerated? How have you been spending your time?
I've been good since I've been locked up. My time is flying. I spend a lot of time on the weight pile, gamblin' and writing. I just try not to think about the outside world too much.
Have you been keeping up with the Chicago hip-hop scene at all?
As far as the scene in Chicago, I've been seeing a lot of L.E.P. on MTV's Sucker Free. These n***** down here where I'm at really fuckin' with them. They always run and come get me like "Your n***** from Chicago on TV! Them n***** spittin' that real shit" so I'm proud of them and what they're accomplishing. I talk to Moonie and Count every now and then and me and Bo Deal been talking back and forth, too. Mikkey and Sly Polaroid finishing up this song I started before I left. No I.D. did the beat, and that shit's gonna be nuts. I've also been hollerin' at MarVo and my man Jay-J, so all those n***** keep me in tune with what's going on.
Is there any chance you'll be out sooner than we think? Your sentence seemed quite lengthy.
As far as my case goes, I just filed my 2225 and that's something like an appeal. If I win, I could be right out. But even if not, they're voting on a lot of laws right now that could put me closer to the door. People out there don't know, but they could be very useful by just keeping up with these things, and calling their Congressmen and letting them know that they want these laws passed. For instance, they are only giving us 54 days a year for good time, but they have a law that they are voting on that will make it 120 days a year. I have five years left, but that will take me all the way down to two. If people want to keep up with a lot of these things there's an organization called FAMM, and their website is FAMM.org. That's just one of many ways to stay in tune, but we need y'all to be instrumental in these changes. They already passed the crack law but it still hasn't gone retroactive, and doesn't affect people already incarcerated. Federal parole is also up for vote. A lot of these things will put me closer, if not out the door.
Do you plan to jump back into rapping if you were to get out within the next two-to-five years?
I will definitely jump back into rap. Like I said, at the worst I have five years of my sentence left. My release date is March 2016 and that's not including the halfway house.
Right before you went in; you were hard at work on your official post-Atlantic debut with No I.D. How far along were you two on the project? There were also a lot of rumors that this album was set to drop on Kanye's G.O.O.D. Music
No I.D. and I knocked out a few songs before I left, but we were really supposed to go hard down in Atlanta. I got locked up doing a show at Southern Illinois University on a Sunday, and that Monday I was suppose to go to Atlanta for a month or two to record. No I.D. had already booked my hotel rooms and everything. If I had known I had a federal indictment, I wouldn't have even done that show. I would've gone straight to Atlanta and recorded as much as I could've before I turned myself in. So, unfortunately, we really didn't get a lot done for the project. We had a few winners and some ideas for bangers but that's about it. I hadn't even gotten far along enough to name it. As far as the G.O.O.D. Music situation, Kanye is a good friend of mine. He helped pay for my lawyer and he's making sure my books are straight while I'm in here. But as far as signing to G.O.O.D. Music, I feel like I would've gotten a deal with whoever I sat down to talk with. At the time, I was focused on recording and having an album already done before I tried to sign with anybody. But G.O.O.D. Music would've been one of my first options.
Now, it's pretty dope that Kanye and No I.D. still look out for you while you're in there. I'm guessing you still have some good contact with them?
Well, since we now have access to internet and email, communication has been better. But like I said, I try to stay out of the world. It helps my time fly by better. The less I'm hearing about what's going on out there, the easier it is for my time to fly. That's how I do it. When I hear from people and they're telling me about a lot of the things that are going on out there, I get in my "Damn, I'm supposed to be out there" mode, and it can really slow time down. So I try to limit a lot of contact with the outside world. Period
Do you think if the Atlantic Records situation would've been different you wouldn't be in the position you are now?
As far as the Atlantic situation goes, yeah, I know I wouldn't be in here right now. It is what it is, though. I feel like everything happens for a reason, and I was out there a little too reckless. There's no telling, I probably would've ended up in here for something worse. Atlantic had to pay me several hundreds of thousands of dollars to release me, but Free [owner of Free For All, the label Bump was signed to through Atlantic] wouldn't sign the papers. He didn't sign the papers until a couple of months after the robbery, which was a year after Atlantic presented the release papers to me. So if he would have signed the release papers when they were first presented, I would have been a few hundred thousand dollars richer, and there probably wouldn't have been a robbery. So no, I wouldn't be in here for the crime I'm charged with.
I'm glad you touched on the contract with Free, as a lot of people didn't even know there was a third party involved. I'm assuming just about everyone thought the deal was directly between you and Atlantic. Would you say that Free's involvement was the biggest reason the Atlantic deal went sour? I, for one, thought Nothing To Lose was a great album – it still boggles my mind that they didn't move on releasing it. Was it because of the situation with Free, or did Atlantic pull the plug on the album?
As far as the Free situation, yeah he was the reason the Atlantic deal went bad. I had no beef with Atlantic, the beef was with him. My album was ready and he wouldn't let them [Atlantic] hear the songs. He wanted to spend top dollar on everything, when at times it wasn't necessary. For example, the "Move Around" video. Me and Atlantic agreed to have Jesse Terrero direct the video, but he insisted Hype Williams do it. In the process of the debate, the song started to decline in spins and we ended up not doing a video at all. A couple of months later Jeezy drops his video for "And Then What", and Jesse Terrero directed it, and used the same treatment he and I discussed for "Move Around". There was just a lot of ego that came along with Free, and it ended up destroying our relationship with Atlantic. When they eventually heard it, they loved the album. That wasn't the problem at all, it was the relationship between Free and Atlantic that destroyed the deal.
Yeah, I always wondered why you never had a video for "Move Around". It really confused the hell out of me that there weren't more visuals of you despite your insane buzz. So many of your songs could've had incredible videos. What other tracks were set to be singles from Nothing To Lose? I know the streets loved "Our Father"
Yeah, "Our Father" was one. I had a song with John Legend called "You and I" that was definitely going to be one as well. I also had one with Jagged Edge and Twista ("Damn Girl") that was going to be one. There were a lot of songs that could've been singles, but I think those topped the list, being they had the most commercial feel to them.
Around the same time you began to bubble, Lupe Fiasco also signed with Atlantic. Do you think it hurt having two new lyrically inclined artists from Chicago trying to come out at the same time on the same label? Twista was also on Atlantic during those years, and you two were beefing. Speaking of Twista, did you know that he recently shouted you out on his new album The Perfect Storm?
I don't think it hurt at all having two lyrical artists from the crib on the label at the same time because we were in different lanes. I don't think the thing with me and Twista had anything to do with it either. I know for a fact that my relationship with Atlantic ended because of the problem with them and Free.
Nah, I didn't know Twista shouted me out on his album, but I've been hearing the new songs he's putting out and I like the one with him and Chris Brown, and the one with Raekwon. But off the subject a little, I just heard some of Sly Polaroid's new shit and the n**** is going crazy. I think once the world gets a taste of him, he'll have huge success. He was one of the only n***** that could really motivate me when I was home.
Funny you mention Sly, because that's a perfect segue into what I was going to ask you next. So do you and Sly still have a great relationship? It seemed like while (towards the end, at least) you were on the streets, he was locked up and then vice versa. You'd hear people claim that Sly wasn't holding you down or shouting you out enough, but that was far from the truth, right?
Sly is like my brother. That's family to me. People will make up whatever just to have something to talk about. Sly keeps my kids over at his crib with him. Our bond is deeper than rap.
What do you think it's going to take for him to reclaim the spot you guys once had? Do you think the Goon Squad will be back together again at some point?
I believe it's going to take nothing but consistency from Sly to be bigger than the hottest n***** out right now, and I'm not just talking about in Chicago, I mean period. I think once he gets a deal and the world hears him, it's over. And as long as I'm alive, the Squad will be alive. Sly and I will always get down, like I said that's family. My other brother Brainz is working as we speak to build his brand, and so is Youngin' and YP. So hopefully them n***** will have some millions waiting on me when I touch down. Chinaman is locked up for a murder right now, so hopefully he can come from up under that. But I can actually see the movement getting even bigger as far as artists when I touch down and get the house situated first.
So what are your initial plans when you touch down?
I plan on working overtime when I get out. I'm on some Pac shit, for real, meaning recording three to four songs a day. I've always been able to do that because I work and write pretty fast, and anybody who has worked with me will tell you that. However, back then I wasn't as focused as I am now. Sometimes it takes a situation like I'm in to wake a person up, and that's exactly what this has done to me. I was blessed with a talent and I was not taking full advantage of it.
Would you advise your old or Goon Squad-related artists (Sly, YP, Brainz, etc) to keep it independent? What advice would you offer them or any other up-and-coming artists? Do you think the major label system hurts more than it helps?
I don't know exactly what I'm going to do approach wise, meaning would I want to go independent or major. When I touch down and a major is talkin' the things I want to hear, that might be the direction I decide to go in. At the end of the day, this isn't about my love for hip hop, even though it is one of my first loves, realistically it's about capital, and whatever situation I feel like will benefit me and my family the most is where I'll go. That's the same thing I would suggest to Sly, Brainz, YP and any other artist out there. Of course I believe you should start your own base, meaning create a big enough buzz where you can tell the labels "Fuck you, I ain't gonna accept just anything. I already got my own following and if you want a piece of this empire I've already created then you're gonna have to give me what I want". But at the end of the day, it's about whatever situation they feel could feed them and their family the best in the long run. I would suggest starting your own label and getting some independent success, so a major would give you a label deal, i.e. Cash Money, Roc-A-Fella, Grand hustle etc. That's where the money is, and you have more freedom and creative control.
You were one of the last artists to get a huge major label deal. What are your thoughts on the new direction the music business taking? It's very digital now, but I'm sure you saw that coming while you were still on the streets.
I think that the way the industry has gone digital is fucked up – but in good in a way. I think it's good for artists who are independent because you can reach millions of people digitally, so it saves you a lot of time and money you'd spend doing groundwork. I've been hearing about this kid Wiz Khalifa, and how he started with creating a buzz off the net and built it so big that he's actually touring from it. That's huge. I think the bad part is that it affects sales because you're able to download a lot of things for free, so people aren't going to the store and buying it any more, which has shut down almost every mom and pop store in the country. Me, I'm hustler before I'm a rapper, and I feel like I can adapt to it easily. It's just about positioning myself where I can own my publishing, my merchandising, as well as getting all the revenue from my shows. I'm hearing about these 360 deals artist are signing and that's crazy. I would rather stay independent than to go for that.
What do you have to say to the people who make comments like "Well, Bump had every chance in the world and he blew it".
As far as people who say things like I "had a chance and blew it", those are the same people who were hoping I was going to fail from the beginning, so I pay no attention to them. I will have my chance again.
The No I.D.-produced, "Letter 2 My Competition", leaked a few months back and had a HUGE response online. That's one of those tracks people had been waiting years to hear. It literally blew people away. What were you thinking about when you recorded that joint and were you talking to anyone in particular?
On "Letter 2 My Competition", I just was in a mode. At the time, people forgot the body of work I put out, and instead of thanking me for opening up doors for n***** in the city, people started coming for the crown. I mean, that was understandable because sometimes when you want to be the best, you have to dethrone the best. But as I sat and watched countless artists try, they in all actuality were just trying to be me. And that was what basically inspired the song. I wasn't talking to anyone in particular, because it was too many to focus on. I felt like it was time to take my spot back even though it was never really compromised. I was going to solidify it on that song and the album I was working on. I never got to lay the hook down, but it was actually samples – one from Biggie "now the years new, I lay my game flat, I want my spot back, take two" and after that was Pac "Hopin' my real muthafuckas know, this be the realest shit I ever wrote". Then it goes into the "Biggie on one shoulder…" verse so it wasn't done yet, but it's good to know it got a good response.
In a jailhouse freestyle from the Remember Me mixtape (with DJ MoonDawg) you proclaimed "Death of Autotune, that's big No I.D., if I was home Hov that would've been my beat". Do you think a lot of those No I.D. beats from Jay-Z's Blueprint III would've been yours? Did you have any of those tracks initially?
Now, with the No I.D. situation, I'm not actually sure that the "D.O.A." beat would've been mine, but there's a good chance it would have been. No I.D. is very talented, so I believe he made that beat with Jay-Z in mind. However, I think that it's possible that some of the beats on Blueprint III could've very well been mine, had I been out. We just started to get in a groove, and like I said, I was on my way to Atlanta to record with him, so maybe Hov wouldn't have gotten to hear some of those beats because I might have had them already.
Earlier you claimed that had you known you had an outstanding warrant, you would've gone straight to Atlanta to record and not done that show in Carbondale. How did you not know you had a warrant? Did the cops not know your whereabouts? Were you in hiding, or do you think they just wanted to make an example out of you once they found you?
Nah, I didn't know I had a warrant until I got arrested. The crime I was charged with occurred a year and a half before I got arrested. I was actually at Obama's inauguration and saw officers from the district where I used to hustle, who know me very well and they spoke to me casually. Actually, their exact words were "I didn't know you were into politics, I thought you were just a criminal". If I had a warrant, I would think they would've been eager to arrest me, so I was clueless. There was no big manhunt like they tried to say, because I wasn't hiding.
So how are the inmates receiving you? Are they familiar with the legend of Bump J and the Goon Squad? Do they know about your music career and deal with Atlantic? Do they treat you differently?
Yeah, I was surprised so many people from so many parts of the country knew me and were familiar with my music, being that I never had a video or an album that was distributed nationally. But they know who I am. A lot of them have heard about some of the negative things associated with me, like rumors of robberies and so on, but I come off as a regular n****. Even when I was in the world, I was looked at as a regular n****, that's why so many of my fans were fuckin' with me so hard. I wasn't on no arrogant "I'm a star" shit. All I knew was the streets before I started rappin' and people perceived me as a n**** from the streets before they saw me as a rapper. So although I get a lot of respect in here, I don't think it has anything to do with Bump the rapper, but more for Bump the person.
You're currently in Texas, right? Do you think you'll ever get a transfer so it will be easier for your family, friends and kids to come visit you?
I'm in Big Springs, Texas right now. It's their policy that you have to be down here for 18 months clear conduct before a transfer, and I caught a disciplinary shot in January 2010, so I'll be getting transferred closer by June 2011. Most likely to Michigan or Minnesota.
Do they have you working in there?
Everyone in the B.O.P. has to work. No exceptions.
Have you been reading a lot? Have you been studying or furthering your education at all?
I have been reading a lot. I've received my GED and I'm now attending some college courses. I haven't really gotten into any educational books, but I have read 48 Laws of Power, Art of Seduction, Art of War, etc. But I feel like I knew those things before I read the books.
How can your fans reach out to you if they'd like to send you letters or packages?
Fans could look up my info at BOP.gov my name is Terrence Boykin and my I.D. number is 07497-025.
Well, I think that pretty much wraps it up. Do you have anything else you'd like to say to your fans and readers of FSD?
Just keep supporting Sly Polaroid, because once he's on he'll be the voice for Chicago and will rep it how it should be repped. I'll be home soon. Thanks for all of the support and fan mail that y'all been sending it keeps me sane. CHEIF IN THIS BITCH! GOON SQUAAAAAAAAAD!!!!!!!!!