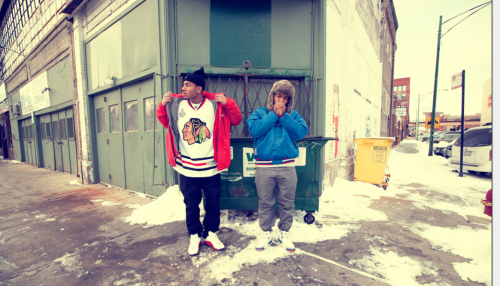 It's a new day and age, and with record labels cutting staff, budgets and resources, a lot of today's new acts are opting to keep it indie, or go through other avenues to release their music.  At the forefront of this movement are The Cool Kids, who have publicly avoided the major label system at all costs since hitting the scene back in 06/07.  Bucking trends, Chuck Inglish and Sir Michael Rocks have decided to release their long-awaited sophomore set, When Fish Ride Bicycles, through Mountain Dew's Green Label Sound imprint.  I'd heard that this deal was in the works some time ago, and thought it was truly the best move for them.  This is going to be the future of music, not to mention PepsiCo has beaucoup bucks, resources and creative lanes to market the duo.  This is a major win.
The first act to be part of the initiative is Chicago hip-hop group the Cool Kids, one of the first talents featured on Green Label Sound, which will release the group's new full-length, "When Fish Ride Bicycles," in the spring. (A release date hasn't yet been set). It will be the act's first album since its 2008 debut, "The Bake Sale" (Chocolate Industries), which reached No. 8 on Billboard's Heatseekers Albums chart and has sold 61,000 units in the United States, according to Nielsen SoundScan. New track "Bundle Up" will be released as a Green Label Sound single for free download on Feb. 23.

"Labels suck," the Cool Kids' Chuck Inglish says with a laugh. "What can they do that Pepsi can't do? We had a good experience with Green Label Sound — we got more from that single than we got from our previous album. I was tired of the album sitting around and just wanted to get it out."
You can read the full piece over at Billboard now.