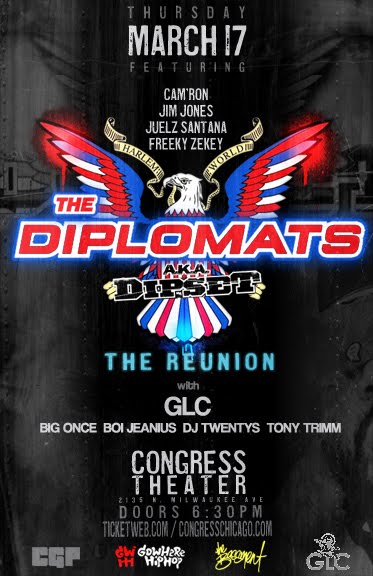 The Diplomats hit the Congress Theater this Thursday (March 17th) as part of their cross country reunion tour, in support of their upcoming reunion album, rumored to be dropping on Interscope.  GLC will serve as the opener and it's sure to be a monster of an evening.  Unfortunately, I'll be in Austin, TX for SXSW festivities, but I do have three pairs of tickets to give away for those not making the trip.  All you have to do is be the first (three) to answer the following question correctly, and send me an email with the subject line: DIPSET IN CHICAGO.
Hit the jump for the question in question. Ha
Name the Dipset affiliate who hails from Chicago, and has directed numerous videos for Cam and Jimmy, and often plays a relative of Cam.
Send answers to fakeshoredrive(a)gmail.com