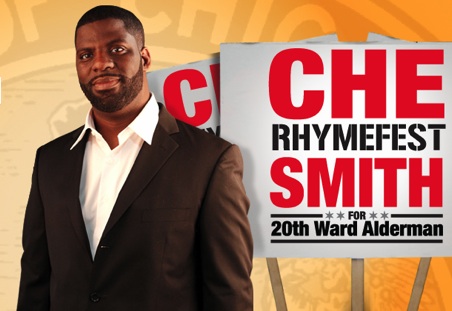 Unfortunately, Rhymefest's quest to make a difference in his community was cut short last night after losing a close run-off to Willie Cochran for Alderman of the 20th Ward of Chicago.  The margin in this race was much closer than in the general election, and many thought 'Fest would squeek by.  However, in the 9th inning, Cochran received the support of newly-elected Mayor Rahm Emanuel, which didn't help matters.
With 84 percent of precincts in, Cochran had 54.6 percent to 45.4 percent for Smith, a Grammy-winning rap artist.

Earlier tonight, Smith's election night party was underway with hip hop music blasting from large speakers when the candidate arrived. A small group of mostly young people followed his mist green Cadillac.

Holding his grandmother on one arm and his wife on the other, Smith said he felt a lot of energy at the polls.

"It's not about me winning or losing, it's about hope," Smith said. "Eleven and 12 year old children ask me 'can you stop the gang banging?' I say 'you have to help too.' "

"People want little things like a quizno's or subway in the neighborhood. They want somewhere to get a sandwich on 63rd," he said.

When asked what he will do once the votes are counted tonight, Smith quipped, "I'm going home and hug on my wife."
I thought it was bullshit how Cochran and his counterparts slandered Che, claiming he was a "Gangster" rapper, and concentrated more on his rap sheet than his actual rap lyrics.  Say what you want about 'Fest, but he's never been a "Gangster" or "Street" rapper in any sense of the word.  Typical mudslinging, but it's a dirty game out there.  Congrats to Che for running a tight race and never giving up.