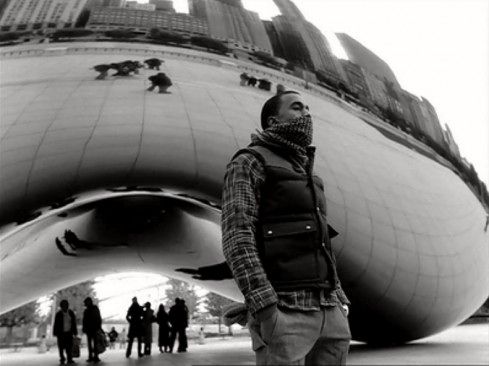 *This is an FSD guest Column from Alan @Snobworthy. This piece does not reflect the views of Andrew Barber or Fake Shore Drive.*
Words by Alan @Snobworthy
To Put On or Not to Put On
Why the rapper has done enough for Chicago
On Young Jeezy's 2008 hit "Put On", featuring Kanye West, the Chicago MC exclaimed, "I put on everybody that I knew from the Go". His verse on "Put On" was one of the most memorable verses of his career. The verse was filled with Kanye's witty rhymes, honesty, and edge. I remember going to watch Young Jeezy at the House of Blues in Chicago and when Kanye's verse for "Put On" was coming up, Jeezy just lifted his mic and the crowd rapped Kanye's verse in perfect unison. That particular line about putting on everybody that he knew from the Go always stuck with me. Not because I doubted his claim but because of the reaction it stirred within the Chicago rap community. Despite being the most successful rapper to come from the Windy City, there are some people in Chicago that would doubt his boastful claim. Some would even say that he do doesn't enough to help artists in Chicago, that he should reach out and do more with local artists. Last year Fake Shore Drive interviewed King The Savior (R.I.P.), a young up and coming rapper and he shared some thoughts about Kanye West, King stated, "I dont have a problem with Kanye. I feel by him being as big of an artist as he is, there's more he could be doing to help the Chicago hip-hop scene. I love the way he rep Chicago, though, but it's tons of artist in Chicago that will never be heard cause the artists who are on don't reach back." I'm sure King the Savior wasn't the only one who thought that way but is it a valid opinion? I don't think it's valid at all.
For those who like to have a short memory Kanye has done a lot already for Chicago artists already. He played a important role in resurrecting the careers of Common and Twista. Introduced the mainstream to what we already knew in Chicago was one of the best lyricists in rap Lupe Fiasco, when he put him on his single "Touch The Sky". He Helped the careers of GLC, Really Doe, Malik Yusef, and Syleena Johnson. He brought back his mentor No I.D. into producing prominence. He's crafted beats and appeared on tracks for Bump J, Sly Polaroid, any many other rappers that call Chicago home. He's shouted out Chicago on countless songs. One of his most popular songs "Homecoming" is a ode to his hometown. He premiered his short film Runaway in Chicago. So it's safe to say that he's done plenty for local artists. Yet there's people that will sit back and ask what has he done for me lately? Instead of looking for a handout, they should go back and listen to "Last Call" and realize how far determination and passion can take someone.
It's no secret that Kanye holds a lot of sway within popular culture and hip-hip. Whatever the guy says gets dissected as if he was presenting the State of the Union address. Whenever he tweets, which is something he hasn't done in a while automatically gets a response from a wide range of people and is worthy of becoming a trending topic. Whatever latest fashion style that he's on becomes a hot topic of conversation between fashionistas and bloggers alike. Back when he had his blog up and running he would often post music videos and tracks from artists that he liked. One of those artists was a no name from Atlanta. Once Kanye posted one of his videos he started gaining a buzz in the hip hop blogosphere. That artist turned out to be CyHi Da Pyrnce, who eventually signed to Kanye's G.O.O.D Music label. For a young artist a co-sign from Kanye can be a blessing. It can be the difference between only a handful of downloads a day to over a thousand downloads a day. Kanye has signed acts to G.O.O.D. Music from all over the country and the world. He's signed midwest natives Kid Cudi and Big Sean from Cleveland and Detroit respectively. Signed Mr. Hudson from England. Signed D'banj and Don Jazzy from Nigeria. He's signed established rappers Mos Def and Pusha T. He's seems to be looking for talent anywhere and everywhere. Yet none of the acts that he's signed as of late have been from Chicago. The music industry may seem like large place but in reality it's small world in which everyone is one phone call away or one tweet away. If there was someone from Chicago that was creating a buzz or had the potential to become a major force in music, I'm sure Kanye would do his best to make sure their rocking a jesus piece. I don't think he's ignoring his hometown despite that he's currently more likely to found on a fashion range in Paris instead of at Ralph Lauren on Michigan Ave. Maybe a part of the reason Kanye hasn't been endorsing new artists from Chicago is because recently Chicago hasn't produced a new artist or a group that's created a nation wide buzz. The only act from Chicago that's creating a buzz right now are the L.E.P. Bogus Boys but I wouldn't exactly put them in the category as new. It's worth noting XXL Magazine's annual freshmen list, which consists of hip-hop most promising rappers, the '09, '10, and '11 classes haven't featured a Chicago representative. Freddie Gibbs doesn't count as one. So maybe Kanye like everyone else around the country shrugs at what Chicago has to offer lately.
I understand the importance of a co-sign and how important it would be to have one from one of the city's rap legends but you shouldn't expect to get one just because you have a Chicago address on your drivers license. You think 9th Wonder and Little Brother were waiting around for Petey Pablo to put them on in North Carolina. No they went out and made it happen on their own. I know there's someone in their bedroom or basement right now working on their raps or tapping their fingers on the MPC doing their best to catch a break. Chicago is a city filled with talent and it's a city capable of producing new sounds. The city produced Kanye West and he didn't have any established artist putting him on. So instead of booing him when he's sitting front row at a Bulls game, it would be a better idea to think about all the things he has done for Chicago already and be thankful that one of the most popular artists in music fantasized about everything he's earned back in Chicago. Mercy, mercy me, that Murcielago.