Video courtesy of Hip Hop Konnekt. Photos by Braxton Black.
Yesterday afternoon, Spitta descended upon the City of Wind for a big-slot performance at Pitchfork's annual music festival in Union Park. Although the festival is admittedly light on the hip-hop side of things, Curren$y, Odd Future, Das Racist and G-Side all share the bill with their counterparts in other genres. Curren$y kicked things off on the hip-hop side of things when he hit the stage donning the Chi City uniform: the authentic MJ jersey, a pair of Mike's and camo shorts. Spitta ran through his string of hits while turning a crowd of roughly a thousand into Jet zombies, with their signature Jet signs held high in the sky.
While his rendition of Percy's classic "Bout It, Bout It" seemed to confuse the younger crowd (I guess they weren't of age to appreciate the Tank in the 199-scrilla? It was my personal favorite of the set.), "King Kong" and "Michael Knight" had the crowd eating out of the palm of his hand. Fiend shared the stage with Spitta for a couple heaters, but much to my dismay he didn't surprise us with "Big Timer" or "Who Got That Fire" (sidenote: why doesn't someone put together a former No Limit soldiers tour?)
Although I'd seen Curren$y just a few weeks ago at the Metro, this set was worth the trek over to the blue stage, where my full $5 beer was knocked out of my hand by a twirly dancing darling. I'm still pissed about that, FYI.
The concert continues through Sunday, so if you're in the area, swing by. More details here.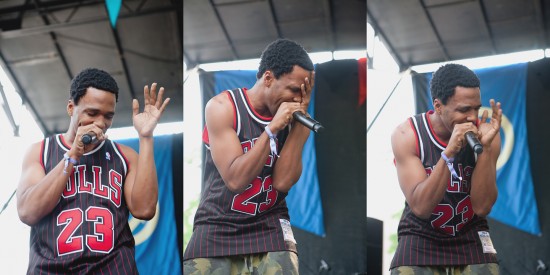 Hit the jump for more pics…