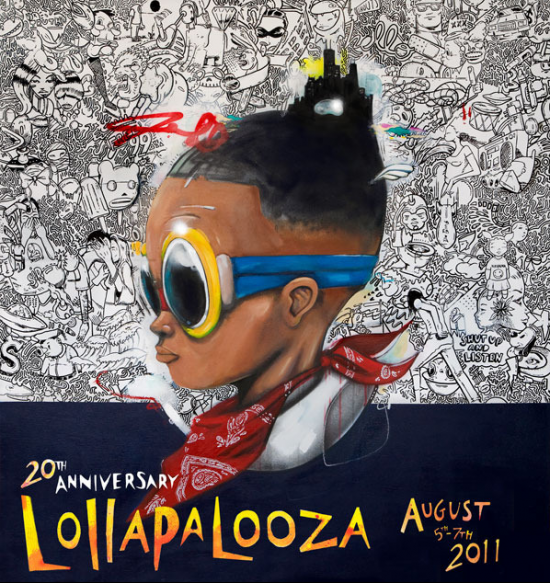 Congrats are in order to local artist Hebru Brantley, who was commissioned by Perry Farrell and Lollapalooza to create the official artwork for Lollapalooza 2011, which also happens to be the twenty year anniversary. Hebru's design will be featured on tickets as well as limited edition posters (signed by Hebru and Perry) which are now available for sale here.
Commissioned to create an original work of art commemorating Lollapalooza's 20th anniversary, Chicago underground artist Hebru Brantley came through with flying colors… literally. Inspired by Lolla's legacy and the rich, cultural heritage of his hometown, the piece features his iconic character Flyboy, showing off his signature graffiti style using oil and acrylic spray paint.

There are three editions available: numbered; numbered and signed; and numbered and signed by both Brantley and Lollapalooza's founder, Perry Farrell. The prints are one-of-a-kind-just like Lolla – and available for pre-purchase right now, or on the ground during the festival at a Lolla Store. But why wait? Destined to be collector's item, there's only going to be one run made and no re-issues, so click the link below and pick up your piece of Lolla history while supplies last!