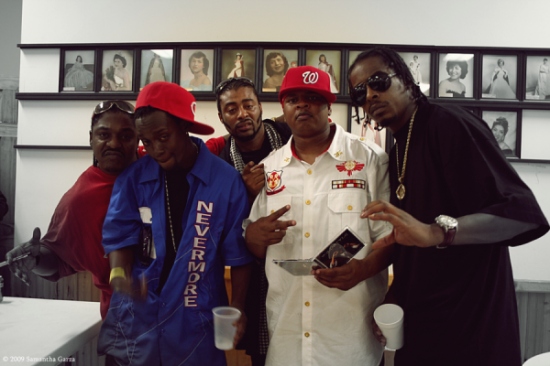 It's been a few weeks since my last FSD Three column, but I had to hold out to bring you something extra special. A piece of history, if you will. For this edition I got with one of Chicago's most legendary hip-hop groups, Crucial Conflict – more specifically their DJ, QBall – to discuss his favorite three records he recorded with the group. He discusses everything from their smash hit "Hay," to their heated beef with Bone Thugs-N-Harmony in the mid-to-late 90s. Check out QBall from The Flict in his own words, and get a history lesson from a decorated vet.
Crucial Conflict "Hay" (Recorded 1995) Produced by Wildstyle
06-crucial_conflict-hay-rec
Okay, I think we all know that my first pick is "Hay." This song is special to me because of three things, the first being the production. Wildstyle went somewhere else in his mind when he made the beat for the song. He was going through some samples and stumbled across "I'll Stay" by Funkadelic. Wildstyle started to chop the sample in all different types of ways until he made the sample go from saying: "I'LL STAAAAAY" to "HAAAAAAY," and I was like: "This shit don't make no sense how you made this sample say something it's not even saying." We were already using the word "Hay" (referencing weed) so when he made the beat it was so perfect. The second reason is how they (Crucial Conflict) came across on the track. Each one of them has their own unique style how they spit – it was something not heard before. I knew they were about to change the music scene because this was a new sound. The third reason is we weren't even going to use "Hay" as the single because we didn't know how the world would take to it. It was a totally different tempo from what you were hearing in music at the time. DJs didn't even know how to spin the record because they didn't know how to match the tempo with other songs until they saw n***** bouncin' in the video. It got sent to The Box (Video Music Box) video channel #424 and the rest was history.
Crucial Conflict "The Final Tic" (Recorded 1995) Produced by Wildstyle
02-crucial_conflict-final_tic-rec 1
My second pick is "The Final Tic." This song, man, I was just really in shock when it was recorded. This was another beat that Wildstyle came up with that was crazy, but what y'all don't know is that what you hear isn't the original beat. Let me explain, see while Wildstyle was making this beat, we thought it was so crazy that all five of us started crying because of the energy that was in the room. I know that sounds crazy as fuck but it's real. Then all of a sudden the fucking power blew. When the lights came back on we were all  just looking at each other in silence and in disbelief of Wildstyle losing the beat. I said to Wildstyle: "that beat was not meant for the world to hear," So Wildstyle did everything he could to duplicate the beat to make it sound like the the one he had before the power blew. So with that being said, the new beat is what y'all hear today on "The Final Tic."
Crucial Conflict "The Bidness"(Recorded 1996-1997) Produced by Wildstyle
02-The Bidness
My third pick is "The Bidness." This song here is very special to me, because of the issue we had with the Bone. Bone Thugs-N-Harmony didn't like us and they kept dissing us on a lot of their music; but we couldn't understand why because we liked them lil' n***** shit. Whenever Wildstle and I would see one of their videos we'd say: "them lil' n***** cold," real talk. We'd never met them and they had no idea we liked their music. The songs we had were already recorded before we'd even heard of Bone, but when they kept dissin' us we said: "fuck it lets fire back." So we came with "The Bidness," "Young Guns" and a song called "Back Against The Wall." I guess they heard the songs and it started an all out war with Chicago artists like Do Or Die and Twista. So then Wildstyle and I drove to Cleveland with no guns, no security, just us to try to find them to see what all the fuss was about. We had a mutual friend who grew up with them that put us in tune with Bizzy Bone. When Bizzy saw us he couldn't believe it was actually us in his city. The first thing he said when he walked up to us was: "Man I had to do that,I had to ride with my crew, but I didn't really want to diss y'all." So after about three or four hours of conversation everything was quickly squashed. But let me tell you what actually made them not like us – on the song "Hay", during Cold Hard's verse when he says: "I WENT TO VISIT GRANDMAS HOUSE AND SEE WHY WON'T KNOW BODY LEAVE, WE CONSTANTLY, CONSTANTLY, CONSTLY (no typo) SMOKIN' Bs," and them n***** thought he said "I WENT TO BIZZY'S GRANDMA HOUSE…" Man when he said that shit I was like: "That's crazy as fuck, joe." But all in all the beef was squashed between us and Bizzy. However, we don't know how the rest of them feel to this day. Now that I think about it, maybe that's why they had differences with Bizzy themselves, who knows?