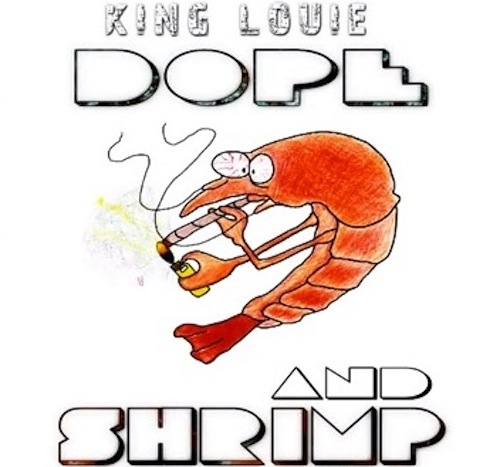 Contrary to popular belief of would-be rappers everywhere, bloggers never discover new artists via new age spam tactics. You know, the old Twitter convo interruption; Facebook wall spam and picture tagging; emails that have been copied, pasted and forwarded a dozen times. Never have I found, or even listened to an artist this way. In fact it's a major turn off. Even worse is if someone hits me with a "man fuck yo site, yo shit weak joe, but can you post my joint please?" I'm sure there are great good rappers who are using these "grind" tactics, that I'm completely overlooking, but how could you even find the needle in the haystack with all of the garbage out there (no shots)? Like I tell people over and over again, if the music is good enough, it's going to find me – and that's how it should be. Sometimes it happens by chance, other times by accident.
About a year ago, FSD contributor CNTRBND posted some King Louie material on the site. I was kind of salty because I'd never heard of Louie at the time, and I remember hitting CNTRBND like: "Dude, who is is this?" CNTRBND sternly told me to chill and listen to it. Thankfully I did, because I immediately became a fan. I sat back and watched from afar while enjoying his mixtapes (most notably Chiraq Drillinois & Hardbody), and with each release the music improved. The beat selection was on point, and the releases were chock full of great and hilarious ad-libs, dope hooks and original rhyme patterns. What draws me to rappers isn't necessarily their content, but the way they present it. Is their any originality? Are they blazing trails or are they following them? It doesn't matter to me if they're rapping about choppers in the car or missing H.E.R. – if it's dope it's dope. And I could care less about "swag" at this point. Yeah, your puffy fur velcro Louis Vuitton chain beltloop keychain purse is cool, but that doesn't mean your music doesn't suck. Miss me with the swag shit, that just masks the fact that you're wack. Give me something original, or miss me all together.
Within the last few weeks, Louie hysteria has reached a fever pitch – at least locally. While rumors run rampant that Louie's inked a deal with Chicago music industry luminary, John Monopoly; the FLY ENT crew has been working feverishly to put the finishing touches on Louie's Dope & Shrimp project. With FSD-favorite, Bighomie DOE, stepping from behind the mic to handle CEO and managerial duties for Louie, their team has a special, organic chemistry that I haven't witnessed in a long time.
Late last week, I was invited out to Studio 11 to preview the album (it's bigger than a mixtape) and watch the creative process live and in person. No less than a dozen of associates flooded the studio (including Bighomie DOE and producer Lokey), to contribute, kick it, or just roll L's. The support and family vibe was refreshing and while most of the inhabitants were blunted, their enthusiasm for the music and what was happening before their eyes was evident – it's like they all knew something monumental was taking place. Everyone chimed in with ideas and were more than happy to share honest and sincere feedback. And they could've cared less that a media dude was in the house – they paid me absolutely no mind. I actually prefer to be a fly on the wall, instead of having some hanger-on bend my ear about their cousins new album, which is sure to be the "next big thing out of Chicago."
I watched Lou record three tracks in my short time there, all of which are standouts on Dope & Shrimp: "Band Nation," a Nez & Rio-produced monster, "Loud Pack," a party anthem, and finally the Lokey-produced "Stylin," which could easily be Louie's breakthrough record. So far, 14 tracks have been completed for D&S, with a few more to be added before it's intended October release date.
There's the indulgent "Louie," which samples the theme song from Louis CK's FX series, Louie, as well as "New Soul," which flips Yael Naim's record of the same name in a Kanye manner. Tracks like "Goldie with the Pimpin" and the "Goldie (Remix)" serve as that smoothed out Chi-Town player shit, while Louie successfully tackles a dubstep-inspired record on "We Like To Party."
Now, I don't want to give the whole thing away, but this is something you'll want to keep on your radar. Obviously, all music is subjective, so I'm sure to get hit with some "MAN WHAT THE FUCK DREW THIS SHIT IS WACK" comments, but hey, I'm just here to share my opinion. That's what bloggers do, right? Keep an open eye.