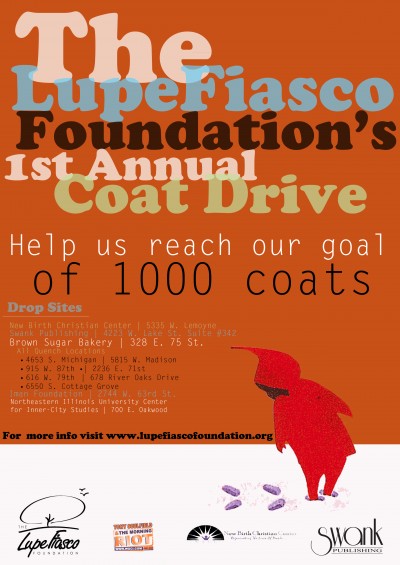 Lupe called in to 107.5 WGCI's Tony Sculfield & The Morning Riot today to talk about his winter coat drive in Chicago, where he plans to collect over one thousand donated coats for those in need. Yet another season where Lupe gives back to the City – a reoccurring theme for the leader of the Lasers.
He also discusses the lines in 50 Cent's new Street King leak, "50's My Favorite,"  which could be construed as shots fired. You know, the whole "Kick Push" thing?
For more info on coat drive locations, and how to get involved, hit the jump for the press release.
Lupe Fiasco Foundation Coat Drive Initiative 2011
WGCI's Tony Sculfield & The Morning Riot Radio Show partners with The Lupe Fiasco Foundation Coat Drive Initiative

PROGRAM OVERVIEW

Founded in 2009, The Lupe Fiasco Foundation serves Chicago inner-city youth and families. Its primary goal is to encourage inner-city youth to reach their highest potential by providing opportunities for artistic expression and empowerment. Since 2003, Lupe Fiasco has provided warm meals and clothing to families throughout Chicago. The Lupe Fiasco Foundation partnered with New Birth Christian Center The South Austin Community Coalition and West Englewood Methodist Church to feed 200 Austin community residents and provided groceries to families in Austin and Englewood.

Your browser may not support display of this image. The foundation has sponsored Healthy Lifestyles Essay contests for students at Prosser, Douglass, Roosevelt and Austin High Schools. Recently, The Lupe Fiasco Foundation partnered with a host of Chicago agencies providing an empowerment conference at Roberson High School to address the high rates of teen pregnancies in Englewood. All of these efforts led to creation of The Lupe Fiasco Foundation. The Targeting youth ages 10-24, The Lupe Fiasco Foundation focuses on youth development through several initiatives including The Little Man Project, The Youth Committee, Sensei Jaco Scholarship Fund and Off The Block.

On Monday October 10th, 2011, The Lupe Fiasco Foundation has launched their Coat Drive program in partnership with WCGI's Tony Sculfield & The Morning Riot Radio show. The Coat Drive will be in up to twenty different locations, with a goal of collecting and distributing 1,000 gently used or new coats to CPS students and homeless shelters throughout Chicago. The kick off date for the drive was October 11, 2011 and will go for about a month.

Targeted Demographic: Ages 10 – 35/ Churches, shelters, schools, etc

Expected Donations: 1,000

COMMUNITY PARTNERS

New Birth Christian Center
Swank Public Relations
Brown Sugar Bakery
Quench-All locations
Soul Vegetarian
Iman Foundation
Northeastern Illlinois University Center for Inner City Studies

The Lupe Fiasco Foundation will be soliciting donations for the Coat Drive from various corporations, companies, local stores and boutiques and will be distributing coats to homeless shelters and schools throughout the city of Chicago.

Your browser may not support display of this image. This past Ramadan The Lupe Fiasco Foundation held their Block by Block Initiative. Feeding over 100 people everyday for the entire month. The Initiative was featured on the Tom Joyner Morning Show, Morning Riot on WGCI as well as AOL.com Boom Box, Hip Hop Wired and ABC News.

MEDIA

The program is expected to reach over an audience of over 500,000 readers, subscribers, listeners and patrons through media coverage for the event. Major media outlets including IllRoots.com, RubyHornet.com, BraniacSociety.com, RedEye Chicago, Time Out Chicago, Clear Channel's WGCI 107.5, NBC Chicago & YRB Magazine will be able to cover the event and will contribute to reaching this mass audience.

For Sponsorship and Donation Opportunities, please contact:

Swank PR Briahna Gatlin, Phone: 312.480.8700

Email: [email protected]

The Lupe Fiasco Foundation, Ayesha Jaco, Phone: 773.988.2138

Email: [email protected]