Today, Derrick Rose stormed Chicago for his Run With Rose event, which celebrated the launch of his D. Rose 2 sneakers with Adidas.
Derrick kicked off the day at the Adidas store in the Water Tower, with hundreds of fans lining up to get their D. Rose 2's and a picture with the MVP. Derrick later hit the Foot Locker on State Street for more interaction with fans, and was greeted with a line that stretched four blocks.
All of this was in preparation for his secret Run With Rose event, which took place at the James R Jordan Boys & Girls Club on the Westside of Chicago. Kids who figured out the various clues, got to the gym early for a chance to play three-on-three against the MVP and two of his buddies. The gym was packed with students from Derrick's high school, Simeon, with Mick Boogie and Neil Armstrong holding down the ones and twos. Araab Muzik was also on hand for a live beat making session (what up Duke Da God!)
However, the crowd and kids had no idea Chicago's own, Common, was on hand and served as the events special guest. After Derrick played (undefeated, mind you) nine teams of three, he took on Com and two of his friends. Obviously D went 10 for 10, but Com and company gave him a good run. After the games, Common took to the mic to freestyle with Mick Boogie on the instrumentals. It was an incredibly memorable event, and look for the full video of the day, courtesy of Brandon "N2ition" Riley, coming soon.
Hit the jump for more pics of Derrick & Common…
Derrick & Common on the court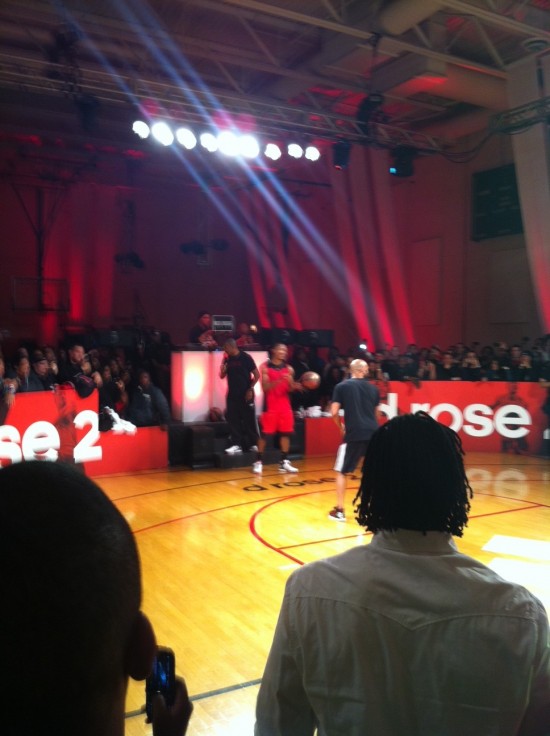 Common's exclusive Adidas shelltoes.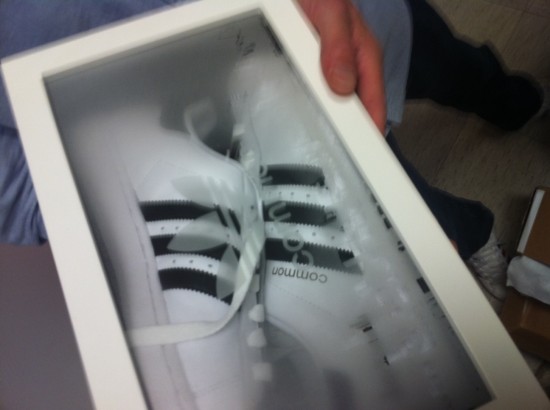 Adidas' Jon Wexler presenting Common with his custom Adidas