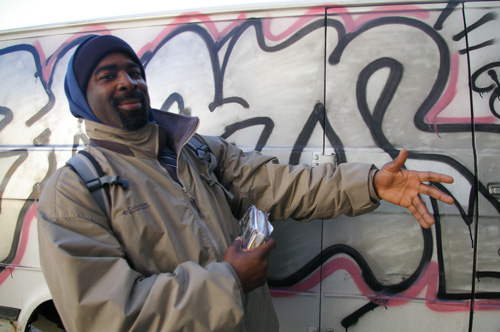 Over the past few months I've run into Sharkula at random spots in the city–whether it be Little Caesars or Emmit's Pub–and every time he's working. Shark knows me and knows what I do, but despite being media, I'm still paying for CDs. And that's the way it should be. Sharkula's grind and hand-to-hand hustle is like no other in the game, so it wasn't a big surprise to find him featured on Forbes this morning.
Forbes writer Leor Galil featured Shark in his Cult Rapper Sharkula and Finding Your Audience piece, which focuses on the shift of the music industry, and how the landscape has changed. He follows Shark around Chicago and documents his day-to-day life. A must read. It's very dope to see someone like Sharkula getting the respect he deserves in a national publication–a financial one at that.
I met up with Wharton in the center of Chicago's Wicker Park neighborhood and stuck to him as he approached every person in sight, always asking the same question: "You like hip-hop music?" Most folks weren't receptive, but it didn't get Wharton down as he sauntered down Milwaukee Avenue, popping in and out of stores. When we entered a fashionable army surplus store, Wharton was greeted with an enthusiastic "Shar-que-laaa" and received an interesting bit of information: A coffee shop called Cafe Mustache, almost two miles north, was using a photo of him for their tip jar. Suddenly Wharton had a goal in mind, and with that we took off towards Cafe Mustache.

Shortly after exiting Belmont Army Wharton sold a CD-R for $4, then convinced another pedestrian to buy one for $7 a little more than 20 minutes later. Wharton is a savy salesman, using whatever means necessary to nab a new listener, sometimes comparing himself to oddball rapper MF Doom or flirting with the female customers he ropes in. He's got the kind of shameless hustle that most canvassers working on commission desire, and he's not above getting a little outside help with his sales: At one point we pop into a boutique winery. "What's your highest potency? I need something to help me out with sales," he said. He nabbed a $2 bottle of beer and tried to sell a CD before we leave.