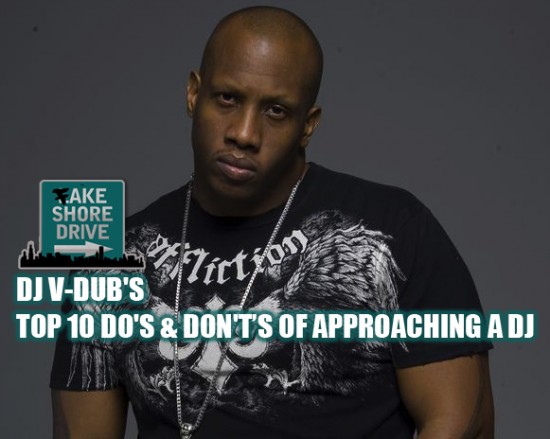 Words by DJ V-Dub (@DJVDUB)
The Mixtape Bully. The King of Cottage Grove. From flooding the streets of Chicago with his thematic mixtapes, to killing the airwaves on WGCI, to turning up for your favorite clubs – you know DJ V-Dub.
A living legend and pioneer, V-Dub has been in the game for years. He's survived fads and fickle fans, and has continued to thrive throughout. With aspiring artists crawling out of every nook and cranny in the city, it's only right that we feed you tips on how to correctly get your music to the DJs. Yes people, there are good and bad approaches, and a seasoned vet like V-Dub has seen them all.
We caught up with V-Dub for his  Top 10 Do's & Don't's Of Approaching A DJ. Hip-Hop etiquette on the free from Mr. Woods.
1.)  DO NOT approach the DJ until you know his name. The correct one.
2.) DO NOT bug the hell out the DJ when he is working in the club. Your best bet is to ask him for his number or his email so you can talk later, if possible.
3.) DO NOT offer the DJ money to play your record in the club or on radio when you first meet them. Because most of them will take your money, but wont play it when you're not around anyway.
4.) DO NOT call the DJ while you have the music blasting and you and the guys are smoking in the background. I will get off the phone ASAP. You think you're cool but you're not.
5.) My personal favorite: "Yo V-Dub, I don't really be on that computer shit bruh, can I meet you on 87th, Dan Ryan to give you my CD?" With the writing on it in marker? No ninja! It's 2012, learn how to use a computer and email it!
6.) DO try to meet a different DJ in the clubs every week. Get a number and email from them. Also, ask where he'll  be DJing soon so you can come support. If it takes staying till the end of the party, so be it!
7.) DO put your music on a thumb drive, because when you see us DJing with a computer, it will be easier to play your music — if we decide too.
8.) DO offer the DJ your business card with all of the info to reach you: phone number, email, Twitter, Facebook, etc.
9.) DO make a list of all the DJ  you meet and get info from.
10.) DO ask at least five working DJs their opinion on your music before you go around saying" it's your single" and "EVERYBODY is feeling it!"