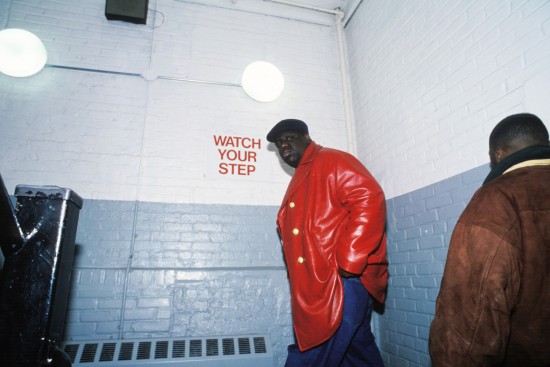 15 years ago today, we lost one of the most important and legendary figures in hip-hop history, The Notorious B.I.G. And just six months before that, we lost Tupac Shakur, who was tragically gunned down in Las Vegas. But what you may not know, is that these two emcees shared a close Chicago connection – that being Grammy Award-winning artist, Malik Yuself.
On the 15th anniversary of Biggie's death we caught up with Malik, who reminisces on his close friend Christopher Wallace, who he met through Tupac Shakur in the early-90s. Malik recalls Biggie first getting booed in Chicago, asking him to be the Godfather of his son, and how Barack and Michelle Obama stopped him from going to Las Vegas to avenge the death of 2Pac.     By the time you finish reading the piece, you'll agree that Malik needs a biopic of his own.
FSD: The first thing you said to me today was "It's a rough day for me." I can imagine. So how did you initially meet Biggie? 
Malik Yusef: I met Chris through Tupac Shakur. Pac was always talking about him, bragging about him, you know. He was always talking about how good of a rapper he was. I had a cousin who lived in New York, so I spent a lot of time in Brooklyn. At the time, 2Pac was out in New York shooting his movie, Above The Rim.  That's when Pac introduced me to his friend Big Chris, who would later become known as The Notorious B.I.G. When I met him, we initially hit it off. I'm an Aries, but most of the people I deal with are Gemini's. 2Pac was a Gemini. Carl Thomas was a Gemini. Kanye's a Gemini. Biggie's a Gemini.
There was a bunch of Gemini energy around us so we hit it off immediately and became very close friends. I met his Mother who was a darling person and still is. I met all of his guys C-Gudda, Billy Bad Ass and all of the guys from the Brooklyn Mint clothing line.
So whenever Big would come to Chicago, he'd call me as soon as he touched down. I remember one time he came and picked me up in a white drop top Ford Mustang. We were riding around the City with the top down in the rented Mustang just happy to have it – just having a ball. I have so many fond memories of dude — he was just always in good spirits. He was somebody I looked up to. At the time I wasn't even doing music, so we never got to go in the studio and record or anything like that. I wasn't even in the poetry realm at that point. I was just starting.
Big always put me in the mind state of a business man — not a rapper. He was a true entrepreneur. He actually had a photographer with him all the time, who was ironically named Mailk Yusef as well — he was from Baltimore. We took a bunch of pictures of Big out here one time that no one will ever see, with Biggie on the roof with the AK-47. The pics never came out then because Puff was a genius and knew what to do with him — he knew he couldn't market him that way.
I still have a strong relationship with Lil Cease and the whole Junior M.A.F.I.A. But the person I was the closest with from that era was Shawn Penn — who used to be Lil Shawn. You know "Hickies On Your Neck." Shawn was a brother to all of us, and much like myself, he was a henchman. [Laughs] He is like family.
FSD: That must've been tough seeing them both go down within six months of each other?
Malik Yusef: I was fearful. I remember the day 2Pac got shot and thinking to myself "I hope that don't happen to Big." The day 2pac died, September 13, 1996, I was about to go to Vegas. But Barack Obama, who was just a community activist at the time, and his wife Michelle stopped me. "What are you gonna do? You're gonna go out to Vegas and do what? Nothing good is going to come from it." This is documented. They had this conversation with me at Altgeld Gardens in the Hundreds. Barack and Michelle were doing an Americorp program, and they were in my neighborhood dealing with gang violence. Barack used to come speak to us all the time, and he checked me that day. He saw it in my eyes.
FSD: You told me that Biggie is the Godfather of your eldest son. How did that come about?
Malik Yusef: The day after my first son was born, I was riding around and a Biggie song had just come on the radio. I immediately called him and told him and he was like "Yo where you at?" and I told him I was in Chicago, and I'm going to get my son from the hospital. He couldn't believe they were playing his song on the radio out here. On a Sunday afternoon at that. It was a big deal for him. You know they only used to play rap on Saturday night's out here.
Big was all excited and started saying "Yo, your son is my Godson. That's my Godson!" So yeah, Big's the ghetto Godfather. Now my son is grown, and Big's kids are grown. And I always think about what could've been. And how things could've ended up. It's just a rough situation. My son always asks about him.
FSD: Seeing that you were close with both Big and 2Pac, how did your relationships change once they started beefing?
Malik Yusef: It was very difficult. I think for everybody it was very difficult. Danny Boy was on Death Row at the time, and you know, Danny Boy is our little guy from Chicago. So he was over there with Pac, and we were holding them both down. Big Syke [Thug Life] and all of those guys were my friends, and Syke was actually still friends with Biggie. It was just a strange time. It was like being caught in between two parents going through an ugly divorce. You loved them both equally, so you didn't want to chose. You couldn't pick sides. Because it wasn't them that was beefing, it was the guys around them.
If you were friends with both sides it was always awkward, because they're always thinking "Well if I say something about such and such, he can run and tell the other person." I was trying to alleviate that, but I was still a go between. When I was around either of them, I would try to talk about other stuff to keep their minds off it. I would talk poetry. I would talk art. I would talk revolution. I would talk the streets. Even out at the clubs you would feel torn, like do I dance to "Who Shot Ya?" How is someone going to react that?
Both of them had a lot of allegiances on both sides so it was tough for a lot of people. Like Treach was one of Pac's closest guys, but he was from the East Coast. So yeah, it put a strain on a lot of relationships. There was a lot of strife there. And these were very young men, who weren't old enough or prepared enough to deal with this level of conflict under the national scope. It caused hatred from around the country, from people who didn't even know the guys involved. Kids were picking sides like "I HATE BIGGIE" or "I HATE PAC." It was strange. But I've always been an independent dude and thinker, so I managed to not mess up my relationship with either one of them. But at times it was compromised.
FSD: Was Biggie in Chicago a lot? Did he come out here quite frequently?
Malik Yusef: He came out here a lot, actually. People were booking him a lot at the time. I remember one concert Puff was pushing out here, it was Usher, Biggie and Craig Mack. A $5000 package. You could get that whole show for $5000.
I remember Big's first ever show out here and he got booed. Usher got booed on the same night! Everybody was cheering for Craig Mack, though. Biggie and Usher got booed off the stage because everyone was yelling "WE WANT CRAIG MACK" and "GET THIS FAT MOTHERFUCKER OFF THE STAGE!" [Laughs]. Biggie would do "Juicy" and no one was feeling it. But then Craig brought Big back out on stage for the "Flava In Ya Ear (Remix)" — and this was before it'd ever hit radio or MTV — and people were like "This guy is great!"
Chicago wasn't going for that stuff. To be recognized in Chicago you had to be doing some kind of crazy flow. Chicago in the 90s? Shit, you better have some tricky lyrical acrobats. And "Juicy" wasn't a song like that. It was for the radio. It wasn't that tricky stuff, so Chicago wasn't going for it. They didn't know. They wanted Craig Mack. I think everyone thought Craig Mack was the superior MC at the time — man, I think Puff did, too.
Big was a great notetaker. He would sit around like a sponge learning off people. From henchmen like Lil Shawn, to guys like Craig Mack; Big would learn from these people and make it better. That's why he was one of the best.
But me and Lil Shawn were some of the few people who knew both Biggie and Pac. I recently told that story to Justin Bieber, and he loved hearing it. He couldn't believe it. He was like "Man, you hung out with both 2Pac and Biggie. You're the shit!" I know the whole world loved and missed Big, but he was my brother.