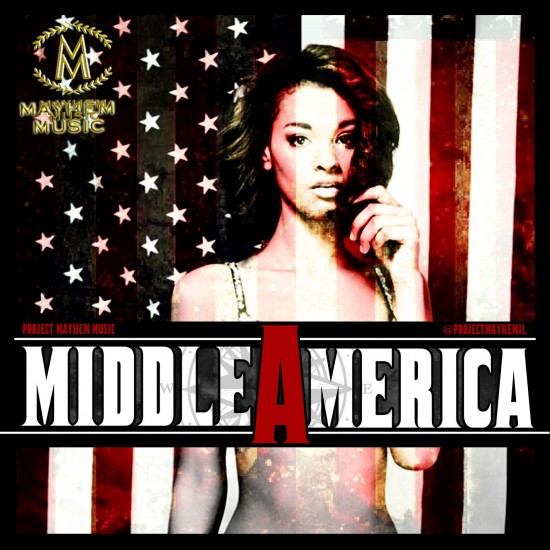 We finally get the long-awaited sophomore album from Project Mayhem; their ode to the crossroads of the U.S., Middle America. Although they've released a slew of solo projects and mixtapes, this marks their only proper album since The Mayhem Machine, which dropped in October of 2009.
Good things come to those who wait, and their overdue sophomore set does not disappoint. The gang's all here from Lennon to Marco Dane to Ish to Paypa to Tree. Tye Hill, Tony Baines, Xcel, Tree, Rashid Hadee and a slew of others provide the backdrops.
18 tracks of cohesive raps for your enjoyment. If you were as big of a fan of The Mayhem Machine as I was, you're going to enjoy this one. Polished yet rugged raps from the Westside quartet. What are you waiting on? Download now.
Project Mayhem – Middle America
1, Mayhem Over Everything prod. By Tye Hill
2, Beautiful Feeling prod. By Hero George
3, Legends of The Fall prod. By Tye Hill
4, Amazin prod. By Tree
5, Music prod. By Xcel
6, Celebration prod. By Xcel
7, Don't Worry prod. By Tony Baines
8, 1 for the Money prod. Tree
9, Dope Party prod. Tye Hill
10, Boyz N Da Band prod. By Tye Hill ft. Cutta
11, Living Proof prod. By Tye Hill ft. Sir Michael Rocks & Tres Monk
12, DDC interlude
13, Drug Dealer Chic prod. By The Narcotics
14, Cheerleader prod. by Live
15, @GoldLouisstraws prod. Rashid Hadee
16, Dynasty 2 prod. By Tye Hill ft. Phil G
17, No Room in the Limo prod. By Beats By Ned
18, Winners prod. By Tree