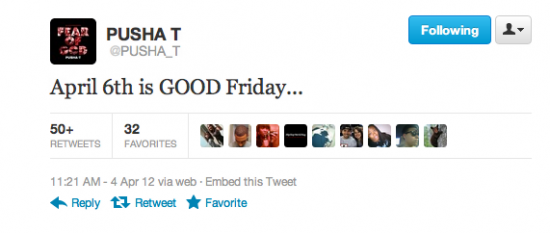 Pusha T just confirmed that the first single from the G.O.O.D. Music compilation is set to drop this Friday, which coincidentally is also G.O.O.D. Friday (synergy!). Pusha also announced the title of the track which is "Mercy," which goes right along with the "Lamborghini, Murci" title we told you about months ago. Don't say we didn't warn you…
From January 25:
A source close to Def Jam has informed me that the tentative first single from the upcoming G.O.O.D. Music compilation is to be "Lamborghini, Murci." The track, which was produced by Phoenix-based producer Lifted, is set to feature Kanye West, Pusha T and Big Sean.
No word on when this is to drop, but I've heard it's a monster.
From March 20:
With anticipation for the G.O.O.D. Music album growing, word on the internets is that the first single (which may or may not be "Lamborghini, Murci") is scheduled to impact on April 6th — Good Friday. Of course this is all speculation, but it does sound pretty genius. Only time will tell, so keep your ears open people.
See you on Friday.