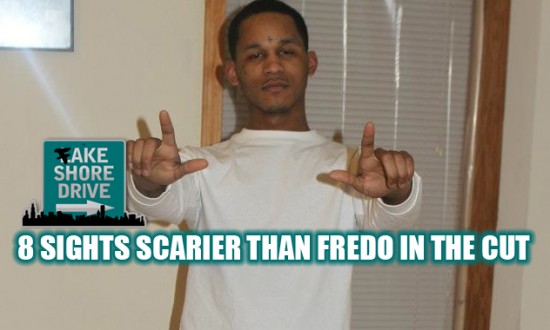 Unless you've been living under a pile of rocks, surely you've heard Chief Keef's infectious hit "I Don't Like."  The track has everyone from Kanye West to Tyler, The Creator to Wiz Khalifa carrying on about things they dislike. The certified smash can be heard in clubs throughout Cook County, and has recently taken on a life of its own nationally.
However, arguably the biggest line in the song doesn't come from Chief Keef, but instead collaborator Lil Reese who spewed the memorable "Fredo in the cut, that's a scary sight." But just how powerful is the line? Well, if you find yourself saying it over and over again on your walk to the train, or at the grocery store, then this earworm was addictive enough to invade your long-term memory. Everyone from school teachers, to 7/11 employees can finish the call-and-response statement of "Fredo in the cut…" It's even created an internet meme of its own. Don't believe me? Twitter search it.
Well, some of you may be wondering who exactly Fredo is — and why is he such a scary site? Well, the Fredo in question is actually Fredo Santana, Keef's blood cousin, who has a bubbling rap career of his own. With songs like "Gang Bang" and "Beef" we can attest to the fact that Fredo within any cut is a scary site.
But is anything scarier than Fredo in the cut? Well, today FSD explores sights that could potentially be scarier than Fredo, and offer our verdicts. How do the other stack up? Well, hit the jump to find out.
[Click Below For First Slide]