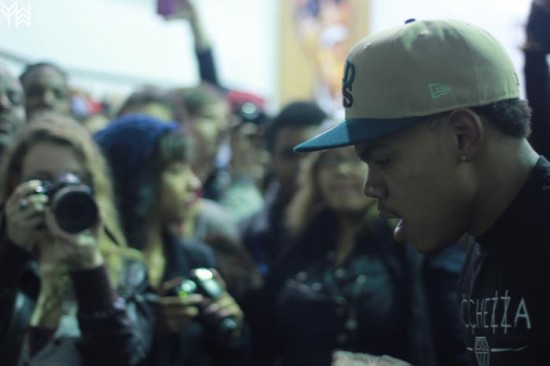 Words by Leland Bonner (@LelandBFresh)
A lot can be said about today's youth: lazy, violent, careless and a million other possible adjectives that could probably fill up this page. But we'll save that for another day. If you sort through all of the knuckleheads who your mom told you not to hang out with, you're sure to find a few standout youngsters — case in point, Chance the Rapper. The 19-year-old phenom fresh out of high school has been selling out venues and creating a sensational buzz around Chicago — all without even dropping a proper mixtape. Today he drops his highly anticipated debut project, 10 Day; so we caught up with Chance to talk school suspensions, his growing hype, and what else in store for the youngin'.
FSD: You've created quite a buzz around Chicago without even having a full body of work. Let's talk about that…
Chance: It's been great so far. I'm just trying. We're actually doing a listening party at Jugrnaut tonight for the tape, it should be crazy and we're really looking forward to that and more traveling around the city.
FSD: Speaking of traveling around the city, I know you traveled to a few campuses selling advanced hard copies of 10 Day
Chance: Yeah, a bunch of my guys and all my homies that I grew up with, we all just went from high school to high school selling the tape.
FSD: Did you get into any trouble going and selling the tape on those high school campuses?
Chance: Nah not really. It was actually mad love. I mean, yeah, we had a couple of minor instances at a couple of the schools, but really nothing major. Actually, when we went up to Lane Tech one of the police officers came up to the McDonald's where we were serving the 10 Day's right across the street and was like, "Are you the rapper that's supposed to be up here selling CD's?!" And I was all like, "Yeah, that's me," and the cop was like "Cool. I heard you were pretty good," and then he just walked off, just on some funny shit. The high school's are pretty decent towards the tape.
FSD: How many copies did you guys sell?
Chance: I think we sold like 500 or something like that. Close to six hundred, I believe.
FSD: Wow. Impressive numbers.
Chance: Yeah man, the high school circuit is really supportive with the music right now. I'm mad appreciative of all the high schools that's helping us so far.
FSD: So out of all those advanced copies, nobody leaked it?
Chance: Nobody leaked it! They actually have like a little support group on Facebook or some shit called "Don't Leak 10 Day" — just a bunch of kids trying to make sure that shit doesn't get leaked. I'm just mad grateful that nobody did because it still hasn't been heard by a lot of people.
FSD: Is the tape really about a 10-day suspension?
Chance: Well, I've been writing for the tape for about a year now. I got suspended right before spring break of last year when I was a senior, and as soon as I got suspended, I was just mad inspired to write this tape. I just kind of address different things like teachers who was on bullshit with me and stuff like that. Everybody finds their inspiration in different places, and I just happened to take that and record a whole tape in 10 days. I figured it would be an ill concept to describe my entire high school existence in ten days and it was so stressful because I kept pushing the release date back.
FSD: How many times has it been pushed back?
Chance: At first it was going to be released at the end of that spring break and then at the end of summer break by the time the new school year started — but of course it kept getting delayed. Now that I have an actual date, I'm super excited. It's a year's worth of work and a lot of shit I've gone through. Looking back on it, if I would have dropped it earlier then I wouldn't had met Chuck Inglish of The Cool Kids, Rich and J.P. of Blended Babies, or Sulaiman and just a lot of the influences and the sounds of the tape.
FSD: Who else has inspired the sound of the tape?
Chance: I have a bit of family ties in music. My dad used to play an instrument and I've always just been into music in general. I kind of grew up listening to Michael Jackson and Prince and just shit that my mom was listening to, not too much rap at the time. I didn't really get into rap until like the fourth grade when The College Dropout came out and I was like, "Aight. I wanna be a rapper. I'm going to be a rapper because Kanye is raw as hell." My older cousin Chef Sean, who also raps too, used to have a recording studio and I would rap on some lil kid rapping type shit, and I just kept growing and listening to way more music and really started studying the music.
FSD: Was "Hey Ma" originally supposed to be somewhat of an ode to your mother?
Chance: I think everybody has a certain love for their mom that they don't have for other people, and just like that certain relationship with their mother and I'm no different. She plays a big part in my music because we haven't always seen eye to eye on the shit, and she's become very supportive recently.
Really the whole story behind "Hey Ma" was that I had got a beat from Tree of Project Mayhem and as soon as I heard it I knew exactly what flow I wanted to use for that shit. I did my verses and sent it back to him and he was fuckin with it, but we didn't really talk about it too much after that. When I shot the first promo video for the first listening party I knew that I wanted to use that song, so I used it and it got super buzz and eventually Tree just hit me up and was like, "Yo. That song is super hot. You can have it and just do what you want with it."
And then just a couple of weeks back I got up with Zach from the BGG movement and Robbie Mueller and they just flipped the song completely. I called up Peter Cottontale to do keys on the song, and this chick Lilly K to sing some jazz vocals and we completely flipped it. When we did the re-do of it that was when it really became more about my mom.
[Click Through To Next Page Below]