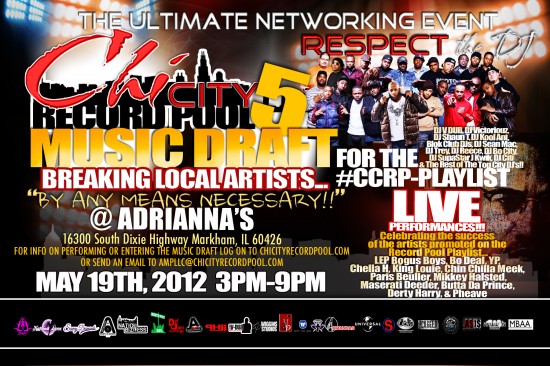 This Saturday May 19, 2012, from 3PM – 9PM @ Adrianna's, The Ultimate Networking Event in the City is COMING! The Chi-City Record Pool 5:Music Symposium, Fashion, Dance, & Film Edition – is a semi-annual networking event aimed at stimulating the Urban music industry of Chi-City. The structure of the event usually is in 2 parts. (1) Music Symposium (Workshops, Training, Networking) (2) Chi-City – Live Performances, The 2012 Music Draft, & give aways. Past Guests have included: DJ Holiday, DJ Don Cannon, Shawwna, Twista, Sony Music, Univeral Records, Da Internz, Nappy Boy Ent, Warner Music Group, GLC, BMI INC to name a few. The purpose of this event is to Train, Educate, & Inspire Urban music professionals of Chi-City on an evolving 21st century global music industry! So far to date we have inspired thousands through out the City and con't to work diligently on raising awareness about the local entertainment market of Chi-City!
Over the past 2 years we have been able to successfully attract the City's most prominent music professionals. Under the direction of DJ V-Dub, we have built the most powerful network of DJ's in the City. Collectively our Chi-City DJ's formulated the Chi-City Record Pool Playlist – a 10 track playlist designed for independent artists to get their music exposed & promoted. In the spring of 2011 @ the Chi-City Record Pool the DJ's of Chicago decided to assist the Independent Artists of Chi-City by playing & promoting the records everywhere they spin for 3 Months! As a result we our able to celebrate the success of our Chi-City Artists who's been signed to Major Record Labels.
As of NOW our DJ's are formulating the NEW CCRP Playlist and is looking to promote & play the "RAWEST" music in Chi-City. On Saturday May 19, from 7PM – 9PM we are holding the "2012 Music Draft" if you are a Independent Artists, Record Label, or Entertainment Company and you are looking to LEARN, MEET & NETWORK with the City's most prominent people in Urban music; then you need to purchase a ticket to attend THE ULTIMATE NETWORKING EVENT IN THE CITY – THE CHI-CITY RECORD POOL:MUSIC SYMPOSIUM. Get your TICKETS NOW @ www.ChiCityRecordPool.com.