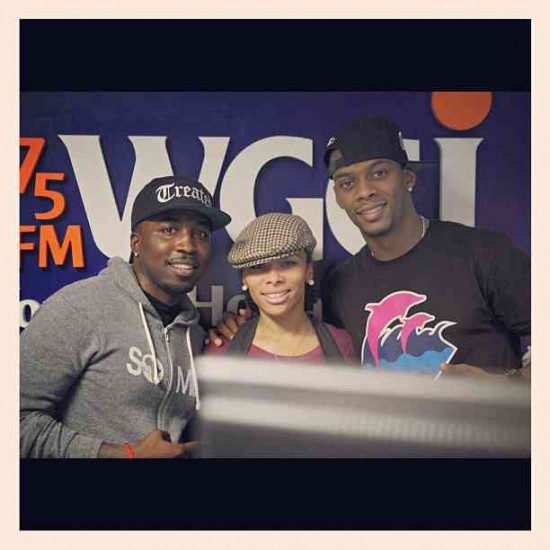 FSD: Do you think the move to LA was a good thing?
Kosine: Absolutely. It was a game-changer. The thing is, you have to get into the culture. You have to get inside of the culture. People in Chicago, when you're here, you don't even understand that you're at a disadvantage. You're at such a disadvantage being away from the culture. In LA, you can be in your studio, then drive right down the street and pop into Meek Mill's session. Then go back to another session and listen to what Kanye is working on — all that is a reality. In Chicago, you're just listening to the radio, or listening to stuff on the internet. You're listening to the stuff that people created six-to-nine months ago — so to us that's old.
Being an artist or a producer, your music has to be very forward and progressive. It has to be progressively progressive. So when people are sitting around listening to everything that's on the radio, we've already moved on to the next thing. We're privy to the new sounds before anyone else gets to hear them. So when people ask us for another "Cake" or another "Ass," we kinda tell them that we're already on to something else.
FSD: I've gotta ask about Nas' single "The Don." It was credited to you, the late Heavy D and Salaam Remi. I'm guessing you guys didn't all cook this one up together.
Tuo: Well, we got co-producer on that one. We got the beat and added to it.
Kosine: We gave that beat breast implants, and an ass job. We put the titties and ass on it. We put the drums on that bitch, and we did our Internz thing to it. You can kind of see and feel what we did, if you're familiar with our sound. But at the same time, it was an honor to be involved with all parties. With Heavy D – rest in peace – Salaam Remi and Nas. Real talk, though, it was just an honor to be mentioned in the same breath as those guys.
FSD: How'd you hook up with Nas?
Tuo: We have the same management — AS. And AS came to us and was like "Yo I got this Nas record. I want you guys to check out and see what you can do with it." So we grabbed it and the rest is history.
Kosine: And just being in the studio with Nas. He allowed us to truly produce him. You know a real artist when they allow you to produce them. When they take advice, and they ask how they sound or should sound on it. Even though he's an OG, he's always learning — even though he's Nas. To me that's just a testament to how the greats really are.
The greats are people who learn and accept knowledge from everywhere. Like Ludacris — he allowed us to put our own hooks on his songs. We put hooks on our rap beats. He allowed us to be real producers. Like when I met Dave Pensado — the legendary mix engineer. He mixed the record we did with Melanie Fiona. And he said "You wanna know why I'm so damn good, Kosine? Because I listen to you guys. I listen to you assholes." Here's the man who is the oracle of mixing records — he's done countless classics. He told us that he's good because he listens.
So when you look at young, cocky rappers who you can't tell them shit. It's like, I can tell immediately how far and how high they're gonna go in this business based off that.
FSD: Do you have any other records on the upcoming Nas project?
Tuo: Just "The Don." The album is slated for July 17, but if they change it, we'll definitely sneak more on there. But since it was closed out and turned in, that was our only contribution.
FSD: You're also working with Ludacris pretty heavily right now, correct?
Tuo: Ludaversal, man. I'm gonna go on record to say the Ludaversal is a statement, but it's the understanding for us as a production team. People will be like "I understand Da Internz" after they hear it. Ludaversal is crazy. It's exactly what the title says. He's attacking it from every angle — as far as musically. It's something very special…he's giving you that authentic Luda shit.
FSD: I hear you're going to have Luda's first single?
Tuo: Definitely. Look for that coming in late May. We have two on him that are potential first singles, we're just waiting on Chaka Zulu to make the call on which one they're gonna use. It may be "Jingling," or another one that is heavily influenced by Chicago house. It's a great problem to have, though. Chaka said they never make their decisions based off the building (Def Jam), so we're waiting to see what they wanna go with. We've got two massive records. So one will come first, and then the other will be out two months later. Boom, boom.
[Click Below For Next Page]