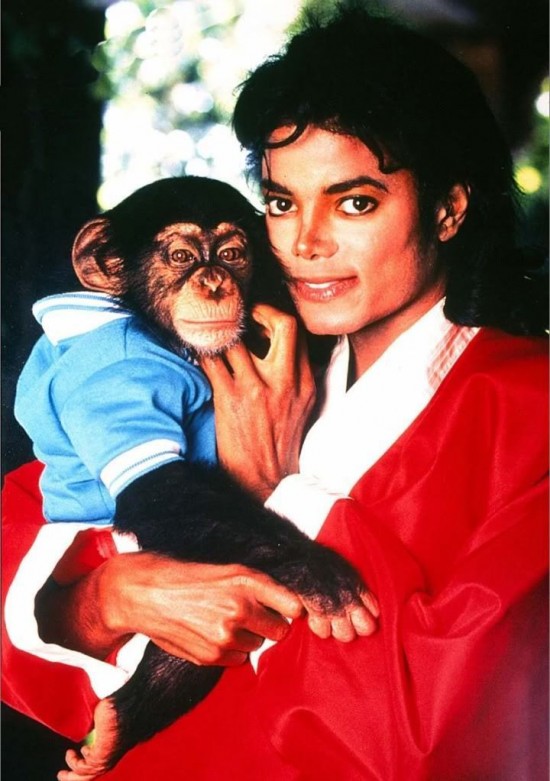 In what looks to be the greatest piece of literature of our time, R. Kelly released a few blurbs to People Magazine, from his upcoming memoir Soulacoaster: The Diary of Me, due out June 28 on SmileyBooks.
On the third anniversary of MJ's death, Kells released the portion of the book about his relationship with MJ —  more importantly about the time he first met Mike and his pet chimp Bubbles. Oh yeah, and they went to the Water Tower Mall. You can't make this stuff up, people.
Finally, Mike walked over to me. He looked in my eyes, opened his arms, and gave me the hug of my life, whispering to me in his lighter-than-air, soft, high voice. "The world's gonna be singing this song."

I blurted out something silly like, "Congratulations on everything you've done, Mike. Congratulations on being Michael Jackson."

Just about then, Bubbles the chimp pranced into the room. In my mind, I called Bubbles "Trouble." The chimp made me nervous.

"He's friendly, isn't he, Mike?"

"Oh, yes, he's not going to hurt you."

"Anyway," I said, "I'm just glad you like the song."
Hit the jump to hear the story about the time Rob, Michael and Bubbles hit the mall…Click here to read the whole piece on People.
Then, the King of Pop made an unexpected request

"Can I ask you something else?"

"Sure."

"Is there a mall around here, Rob?"

"Just a couple of blocks away."

"Would you go there with me? I love malls."

"I love 'em too, Mike. Let's roll."

With Bubbles and the security team in place, we went to Water Tower Place, one of the nicest malls in Chicago. Michael headed straight for the Disney store where he was fascinated by a larger-than-life statue of Donald Duck hung above the entrance.

"That's beautiful," said Michael. "Do you think they'd sell it to me? I'd love to have Donald Duck for Neverland."