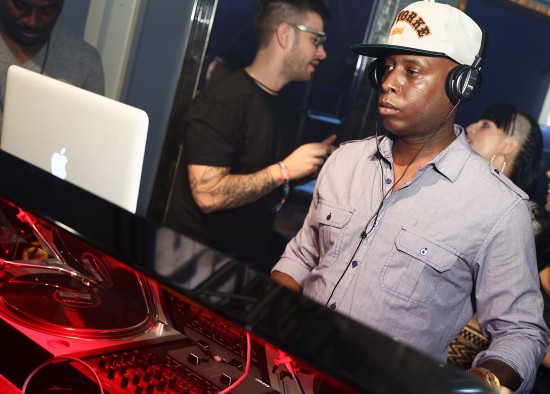 Every year, one of the best Lolla-related events to attend happens at the Hard Rock Hotel. This year their were three parts: The ck one color Music Lounge, It's So Miami Oasis and finally ck one presents Rock The Vote Nights.
Sponsors of the event included The Greater Miami Convention & Visitor's Bureau, GUESS, Motorola Mobility, Clearasil®, DISARONNO, New Era, Coors Light, vitaminwater®, SOUL by Ludacris, Rock the Vote, Blue Microphones, Vita Coco Coconut Water and Nico Lives.
A ton of artists and celebs turned up to attend the event, all of which are listed below the jump. Also included are pics from all three events, and as you can see, the turn out was pretty crazy.
Day Attendees: Aaron Paul, Ambassadors, Animal Kingdom, Chris Holmes, Delta Spirit, Deluka/Elli Innocenti, Dry the River, Evan Ross, Future Reed, Glass Lux, Grimes, Heaven Malone, Hey Champ, JC Brooks & The Uptown Sound, Josh Hopkins, Juan MacClean, Kaylee DeFer, Michael Pena, Michelle Williams, Midnight Conspiracy, Ryan Cabrera, Tallest Man on Earth, The Empires, The Knocks, The Unsheathed, Twin Shadow, Zedd, Anggie the 9th, April Rose, B.o.B, Big Gigantic, California Wives, Chrissy Murderbot, Disguised as Heroes, DJ Greg Corner, DJ Miranda Wright, DJ ZERO, Fat Jew, Future Feats, Haley Reinhart, Harmar Superstar, Helena, Kid Color, Mike Nouveau, Misfit Dior, Passion Pit, Policia, Quarter, Rose McGowan, Scott Lucas, Show you Suck, Talib Kweli, Team Bayside High, Temper Trap, The Big Pink, The Jane Doze, The Knocks, The Perfect Kiss, Thenewno2, Toro Y Moi, Yuna, Zach Gilford.
Night Attendees: Kelly Osbourne, Jack Osbourne, Quarters, Future Feats, The Knocks, Torik Adams, King Louie, Grimes, Yawn, Midnight Conspiracy, Mike Nouveau, Rosco Bandana, Talib Kweli, Chairlift, Ana Calderon, Josh Henderson, Rose McGowan, Erin Lucas, Dave Chapelle, Donnis, Dev, Deluka, Haley Reinhart, Little Dragon, Neon Indian, DJ White Shadow, Childish Gambino, Danny Masterson, Jeffrey Tonnesen.