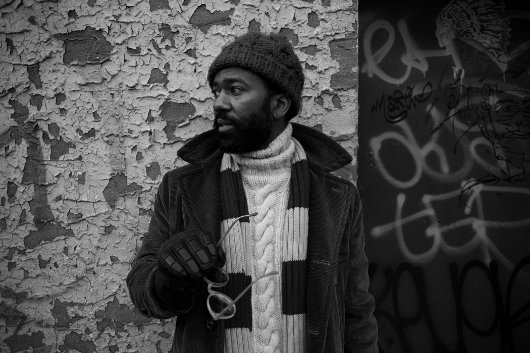 Question: How many times have you listened to the G.O.O.D. Music posse cut "Mercy" and wondered just what the Jamaican sounding man was spewing during the chorus? Answer: Every time.
Well have no fear, The Twilite Tone has opened up about the sample and his contributions to the track via an interview with HipHopWired. Tone also states that he's headed down to Hawaii to work on Kanye's next album. Tone also contributed to a handful of other tracks on the album, including the "I Don't Like (Remix)" and "The One." But in regards to "Mercy":
"He quotes a verse from the Bible and then he goes into you know, 'Don't test me,' that whole Jamaican, dancehall, don't test me and my sound," Tone tells us. "Then he says right before the other hook comes in, 'Believe me.' So he's saying the biblical verse to back him up, to give him this power, for lack of a better term, this spiritual power and then he goes into bragging, and then he says believe me." [Check out an in depth look at the use of Super Beagle's "Dust A Sound Bwoy" sample over at Large Up.]

The general idea for the track was a collaborative effort between West and Tone. "The inspiration initially was based upon a conversation Ye and I had, and him playing me the track, um. That was how can we do something unusual, uncanny.
"It was just like 'Yo what do you think?' and I was like well, the way the drums were before I was like, 'Yo I think you should change the drums and retune them so this doesn't sound like regular trap.' Then we just got to talking and I just thought, 'What could I do that would just be counter establishment? Or counter cliché, like what could I put on there.?' For some reason, I heard that dude [in the beginning of the track], I heard him, I had a vision. I heard that 'Well it's the weeping and the moaning' and I was like 'Oh!' Then it just literally, I hate to sound so like comic book or some sh-t, but literally I was like 'Oh my God,' like I had chills. So then, I was invited to the studio. I talked him, maybe that was Friday, or Saturday, We met up.

"The next day he invited me to the studio, and he was there and a couple of his crew, and I played the sample and everybody froze, everybody paused. Like everybody. It's just that everybody was keyed to it. and Ye was like 'Oh snap,' and he started hitting the buttons on it. The rest is, as you would say, history or our story. "