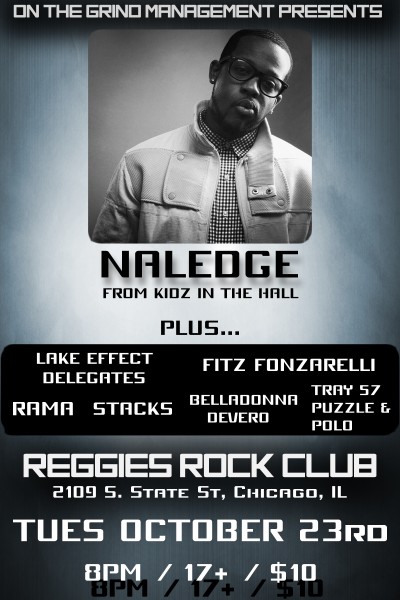 Tonight, Naledge Born of the storied Kidz In The Hall crew hits Reggie's Rock Club in Chicago for a show to promote his upcoming project, The Chicago Picasso 2.
Join Naledge and On The Grind Management tonight (10/23) at Reggies Rock Club (2109 S. State Street) for a top-notch line-up of Chicago artists that kicks off at 8PM. This show is a lead up to the anticipated upcoming mixtape from Naledge, Chicago Picasso 2, due out November 6th. Doors at 7:30PM / $10 / 17+.
To win tickets, hit the jump.
To win, you must be the first person to correctly answer the trivia question below, and either email me or Tweet me (you have to be following to win so I can DM) with the subject or hashtag #NaledgeChicago
Name three of Naledge's solo projects.