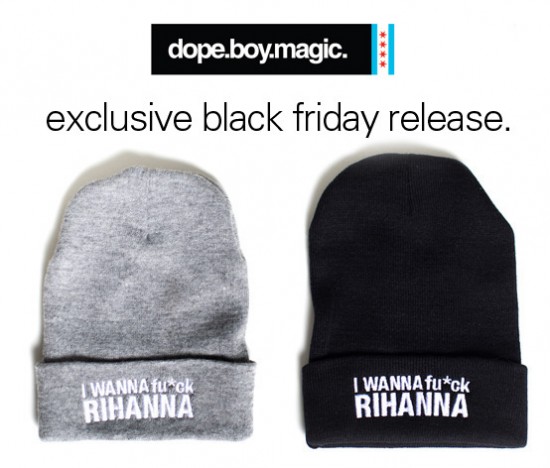 You may want to tuck your kids into bed before you continue reading this post.
If you follow the dope.boy.magic team or any of the various Chicago fashion mavens on Twitter, then you've surely seen chatter about #TheHat. Well, today those not in the know got to see just exactly what #TheHat was. Well, from the pictures above, it's pretty self-explanatory, right? Bold has never been bolder, and if you want to make a statement, stroll into work next week with this bad boy on your head — you're sure to get a few looks. And hey, the synergy couldn't be better what with the controversial Rihanna Plane coming to an end this week.
The hats and accompanying t-shirt will be available on Black Friday at dope.boy.magic's pop up shop at 1950 W. North Ave starting at 11am, or you can cop them at their online store now. I'm guessing these are gonna do numbers. And they should probably have a parental advisory sticker.
Hit the jump for more shots (with a few of the pics handled by Marc Moran)