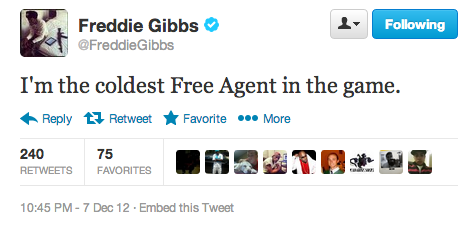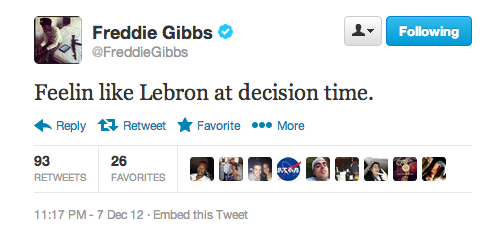 It's been way over a year since Gangsta Gibbs joined Young Jeezy's CTE imprint, but that may be no more from the look of things. Nothing has been officially stated or announced, but the tweets are talking. Friday night, Gibbs took to Twitter to tweet the two tweets you see above alluding to the fact that he may be calling somewhere new home.
During a recent interview with Power 105.1's The Breakfast Club, Gibbs stated that he didn't really have a label to release his debut album when asked about the delay on the project. After explaining that he and Jeezy rarely see each other due to their work schedule, Gibbs went on to say that he and CTE were still "cliqued up" and still family. Keep in mind that the interview took place before Gibbs' "free agent" tweets.
Fast forward to earlier today and Str8 Slammin' affiliate Hit Skrewface took to Twitter let this one fly: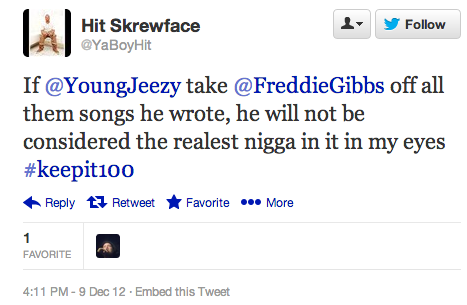 Interesting, right?
Two things are for sure: Gibbs wasn't present at Jeezy's show at Congress Theater last night and as Charlamagne pointed out in The Breakfast Club interview, Gibbs' CTE chain is nowhere to be seen and hasn't been for a while. Has Gibbs decided to separate from Jeezy's CTE imprint? No telling, but I'm sure we'll find out sooner than later.