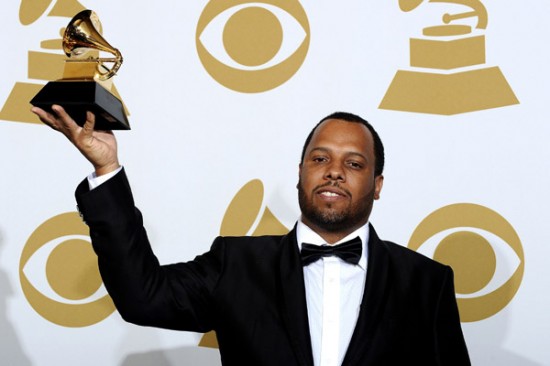 Chicago hip-hop hit it big yet again at the Grammys, with a handful of homegrown artists scorning nominations. The nomination ceremony was held this evening in Nashville (the first time outside of LA in five years), and No I.D., Kanye West, Lupe Fiasco, Da Internz and R. Kelly all have a chance to bring home gramophone's in February.
No I.D. scored big with Nas, nabbing noms for both "Daughters" and the Life Is Good album. Da Internz are also up for their work on Nas' most recent release. Lupe is up for rap album of the year for Food & Liquor 2, and Ye and Jay snagged multiple for "N***** In Paris" (and Ye for "Mercy"), while Kells is up in the R&B categories, obviously.
Congrats to everyone for their nominations, and best of luck on February 10th on CBS. Hit the jump to check out the rest of the rap-related nominees.
Best Rap Performance

HYFR (Hell Ya F***ing Right)
Drake Featuring Lil' Wayne
Track from: Take Care
[Cash Money Records]
N****s In Paris
Jay-Z & Kanye West
Track from: Watch The Throne
[Roc-A-Fella Records, LLC]
Daughters
Nas
Track from: Life Is Good
[Def Jam]
Mercy
Kanye West Featuring Big Sean, Pusha T & 2 Chainz
[G.O.O.D. Music / Island Def Jam]
I Do
Young Jeezy Featuring Jay-Z & André 3000
Track from: TM: 103 Hustlerz Ambition
[Def Jam]
Best Rap/Sung Collaboration

Wild Ones
Flo Rida Featuring Sia
Track from: Wild Ones
[Poe Boy/Atlantic]
No Church In The Wild
Jay-Z & Kanye West Featuring Frank Ocean & The-Dream
Track from: Watch The Throne
[Roc-A-Fella Records, LLC]
Tonight (Best You Ever Had)
John Legend Featuring Ludacris
[Epic Records]
Cherry Wine
Nas Featuring Amy Winehouse
Track from: Life Is Good
[Def Jam]
Talk That Talk
Rihanna Featuring Jay-Z
Track from: Talk That Talk
[Def Jam]
Best Rap Song

Daughters
Nasir Jones & Ernest Wilson, songwriters (Patrick Adams, Gary DeCarlo, Dale
Frashuer & Paul Leka, songwriters) (Nas)
Track from: Life Is Good
[Def Jam; Publishers: Rich Daily Since '71, Universal Music Publishing, Unichappell Music]
Lotus Flower Bomb
Olubowale Akintimehin, S. Joseph Dew, Jerrin Howard, Walker Johnson & Miguel
Jontel Pimentel, songwriters (Wale Featuring Miguel)
[MMG/Warner Bros.; Publishers: WB Music/Deadstock Music/Verrin Howard/Miguel Jontel Pimentel Publishing/Fusician Publishing]
Mercy
Sean Anderson, Tauheed Epps, Stephan Taft, James Thomas, Terrence Thornton &
Kanye West, songwriters (Denzie Beagle, Winston Riley & Reggie Williams, songwriters) (Kanye West Featuring Big Sean, Pusha T & 2 Chainz)
[G.O.O.D. Music; Publishers: Please Gimme My Publishing/EMI Blackwood/RLFG Music/FF to Def Pub./Neighborhood Pusha/Sony ATV Songs/Ty Epps Music/Copyright Control/Roynet Music/Dub Plate Music]
The Motto
Dwayne Carter, Aubrey Graham & Tyler Williams, songwriters (Drake Featuring Lil'
Wayne)
Track from: Take Care
[Cash Money Records]
N****s In Paris
Shawn Carter, Mike Dean, Chauncey Hollis & Kanye West, songwriters (W.A.
Donaldson, songwriter) (Jay-Z & Kanye West)
Track from: Watch The Throne
[Def Jam; Publishers: Hit-Boy Music/Very Good Beats, Hip Hop Since 1978, Dean's List Productions, Unichappell Music]
Young, Wild & Free
Calvin Broadus, Chris Brody Brown, Philip Lawrence, Ari Levine, Peter Hernandez
& Cameron Thomaz, songwriters (T. Bluechel, M. Borrow, T. Griffin, K. Jackson, N. Lee & M. Newman, songwriters) (Snoop Dogg & Wiz Khalifa Featuring Bruno Mars)
Track from: Mac And Devin Go To High School: Music From And Inspired By The Movie
[Atlantic; Publishers: My Own Chit Publishing/EMI Blackwood, PGH Sound, Mars Force Music/Roc Nation Music, Toy Plane Music-Universal Music, Westside Independent, WB Music, Late 80's Music, Beechwood Music, BMG Platinum, Rebellion Corps.]
Best Rap Album

Take Care
Drake
[Cash Money Records]
Food & Liquor II: The Great American Rap Album, Pt. 1
Lupe Fiasco
[Atlantic]
Life Is Good
Nas
[Def Jam]
Undun
The Roots
[Island Def Jam]
God Forgives, I Don't
Rick Ross
[Def Jam]
Based On A T.R.U. Story
2 Chainz
[Island Def Jam]