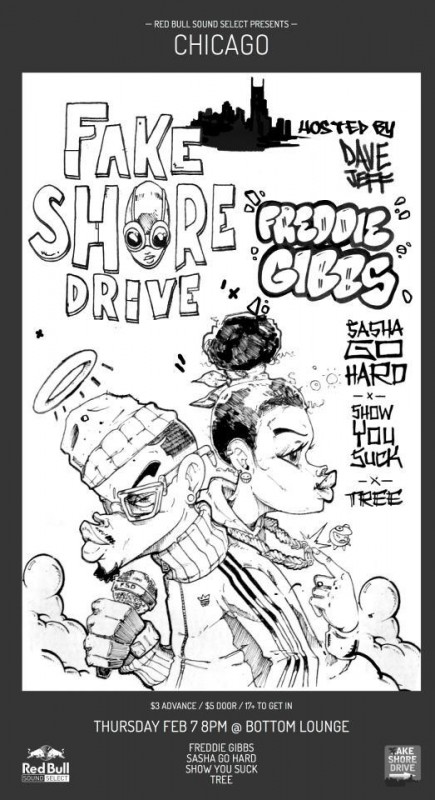 Artwork by Hebru Brantley
I'm happy to formally introduce everyone to a new series we'll be bringing you over the next year: Red Bull Sound Select. Fake Shore Drive has officially partnered with Red Bull to bring you the best in independent hip-hop in Chicago. Red Bull Sound Select will be impacting in five cities across the country (LA, NYC, Chicago, Austin & Nashville), with Fake Shore Drive picked to curate the hip-hop events in the City of Wind (more on the other Chicago curators later.) The goal? To push the indie music scene in our market. Sure there were a ton of the major label signings in the Chi in 2012, but there are plenty who still remain unsigned and remain true to their indie roots. And we're here to bring them to you — live and direct.
Each show will feature a headliner (in this case: Freddie Gibbs), and three of the hottest unsigned (by a major label that is) acts in the city (For the first show: Sasha Go Hard, Tree and ShowYouSuck.) Oh and did we mention that each and every show will cost you $3? Yeah, that's correct, you get to see this entire show for  $3 if you buy your ticket now (or $5 if you buy @ door.)
Date: Thursday, February 7, 2013
Location: Bottom Lounge
1375 W Lake St Chicago, IL 60607
Doors: 8pm
Age: 17+
Headliner: Freddie Gibbs
Sound Select:
Sasha Go Hard
Tree
ShowYouSuck
Hosted by: Dave Jeff
DJed by: DJ Victoriouz
Artwork: Hebru Brantley
Price: $3 now. $5 at door.
Dave Jeff will be handling hosting duties, with DJ Victoriouz on the 1s and 2s all night long.
And for the final cherry on top, everyone who attends the Sound Select show at Bottom Lounge on 2/7, will win an exclusive print of the flyer you see above, designed by Chicago artist extraordinaire Hebru Brantley. You can frame it, hang it, stalk Hebru to sign it — whatever. I'd say this whole thing is a pretty good deal, right?
We hope to see everyone there on Thursday, February 7th. This is only the beginning.