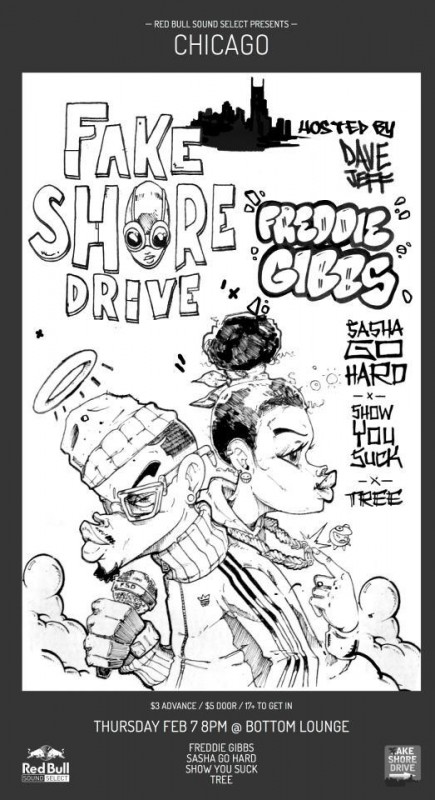 Artwork by Hebru Brantley
THE FIRST 100 PEOPLE THROUGH THE DOOR WILL RECEIVE A POSTER-SIZED PRINT OF THE FLIER. 10 WILL BE SIGNED BY HEBRU HIMSELF.
This Thursday, February 7, Fake Shore Drive and Red Bull join forces to kick off our new partnership: Sound Select. We'll be bringing you the best in indie Chicago hip-hop (with a dope headliner) throughout the rest of the year, and we're kicking things off on 2/7 with Freddie Gibbs, Sasha Go Hard, Tree and ShowYouSuck.
On top of being able to see this dope lineup for only $3 (if you preorder. it will be $5 at the door), we'll be giving patrons limited edition poster prints of the plugger (created by Hebru Brantley), and we'll have other surprises in store. DJ Victoriouz will be handling DJ duties, and Dave Jeff is to host. Yes, it's serious business.
Date: Thursday, February 7, 2013

Location: Bottom Lounge
1375 W Lake St Chicago, IL 60607

Doors: 8pm

Age: 17+

Headliner: Freddie Gibbs

Sound Select:
Sasha Go Hard
Tree
ShowYouSuck

Hosted by: Dave Jeff
DJed by: DJ Victoriouz
Artwork: Hebru Brantley
Today we're giving away ONE pair of tickets to ONE lucky FSD reader. Hit the jump for details on how to win.
To win, you must be the first person to correctly answer the trivia question below, and either email or Tweet me (you have to be following to win so we can DM) with the subject line or hashtag #SoundSelectChicago
Name three of Freddie's mixtapes from  before 2010.
Ready. Set. Go. And don't forget, if you don't win, buy tickets here.