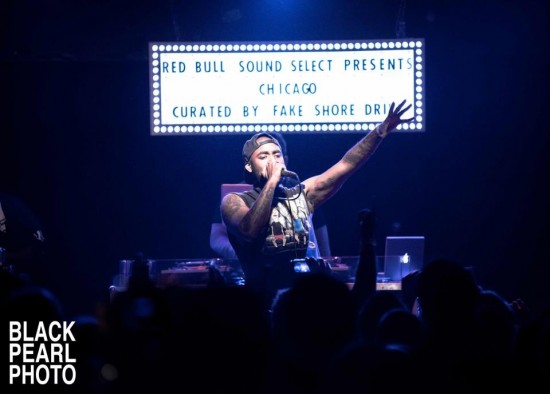 Photos by Hank Pearl of Black Pearl Photo
Thursday night, Fake Shore Drive and Red Bull kicked off the new series Sound Select, which will be bringing you the best in local indie music throughout 2013. Fake Shore Drive will be handling the hip-hop side of things, while Jeremy Scheuch (Do312) and Michael Petryshyn (Riot Fest) will be throwing shows for their respective genres.
The first Sound Select featured Freddie Gibbs as the headliner, while local acts Tree, ShowYouSuck and Sasha Go Hard repped for the local scene. The event was held at Bottom Lounge, and the acts performed to a sell out crowd (despite the winter storm taking place outside.) DJ Victoriouz handled DJ duties throughout the evening, while Dave Jeff hosted. So, yeah the first Sound Select was a huge success, and we promise you that this is only the beginning. Our next stop is Austin, TX in March, and then we're back to Chicago for the duration of the year. And trust we'll be keeping you abreast of everything we do.
If you missed the event, or if you just want a recap, hit the jump to see the photos. For a review of the show and everything that went down, you can check out what the Chicago Tribune had to say right here.
Enjoy the pics below…