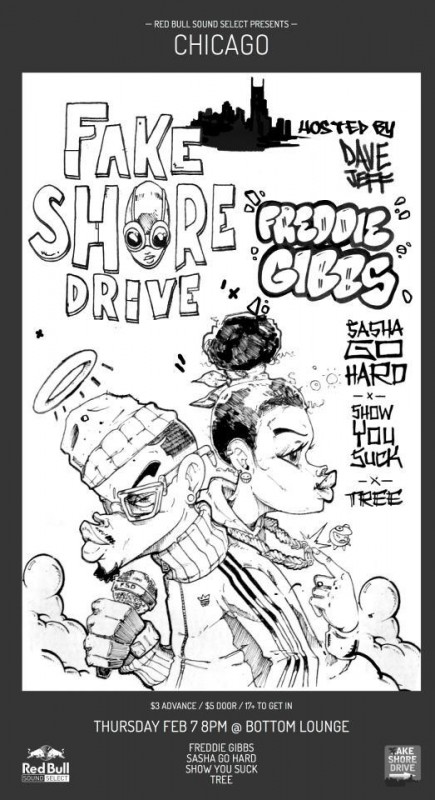 Tonight. Bottom Lounge. 8pm. $3 advance, $5 at door. Red Bull. Fake Shore Drive. Freddie Gibbs. Sasha Go Hard. Tree. Show You Suck. DJ Victoriouz. Dave Jeff.
First 100 guests through the door will receive a FREE poster-sized print of the Hebru Brantley-designed plugger you see above. Very limited edition. Super rare.
The stakes are high for this show, and you'll find out why once you're in the building.
Date: Thursday, February 7, 2013

Location: Bottom Lounge
1375 W Lake St Chicago, IL 60607

Doors: 8pm

Age: 17+

Headliner: Freddie Gibbs

Sound Select:
Sasha Go Hard
Tree
ShowYouSuck

Hosted by: Dave Jeff
DJed by: DJ Victoriouz
Artwork: Hebru Brantley
Read about the series below. We'll be bringing you the best in indie music all year.
I'm happy to formally introduce everyone to a new series we'll be bringing you over the next year: Red Bull Sound Select. Fake Shore Drive has officially partnered with Red Bull to bring you the best in independent hip-hop in Chicago. Red Bull Sound Select will be impacting in five cities across the country (LA, NYC, Chicago, Austin & Nashville), with Fake Shore Drive picked to curate the hip-hop events in the City of Wind (more on the other Chicago curators later.) The goal? To push the indie music scene in our market. Sure there were a ton of the major label signings in the Chi in 2012, but there are plenty who still remain unsigned and remain true to their indie roots. And we're here to bring them to you — live and direct.
Each show will feature a headliner (in this case: Freddie Gibbs), and three of the hottest unsigned (by a major label that is) acts in the city (For the first show: Sasha Go Hard, Tree and ShowYouSuck.) Oh and did we mention that each and every show will cost you $3? Yeah, that's correct, you get to see this entire show for  $3 if you buy your ticket now (or $5 if you buy @ door.)