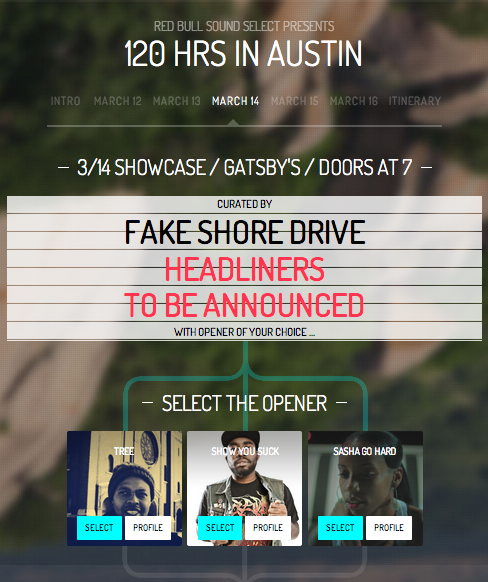 Puffy said it best: VOTE OR DIE.
As you know, last week Red Bull and FSD held the first of their Sound Select concerts in Chicago, with the goal of promoting local indie talent. And to kick off the series, the stakes are high. That's right, one of the opening acts will receive an all expense paid trip down to Austin, TX to perform at Red Bull's 120 Hrs in Austin series.
Fake Shore Drive and Red Bull's night of 120 Hrs In Austin will take place on Thursday, March 14 at Gatsby's on 6th street — right in the heart of the action. Our full lineup has yet to be announced, but we need your help selecting which act will perform with us. Will it be Sasha Go Hard, Tree or ShowYouSuck?
If you came to the show last Thursday night, then vote for your favorite performer. And if you missed it, vote for your favorite act. It's as simple as clicking THIS link. So spread the word, spread the love and help your favorite Chicago artist get down to Austin. It's going to be a great 120 hours.