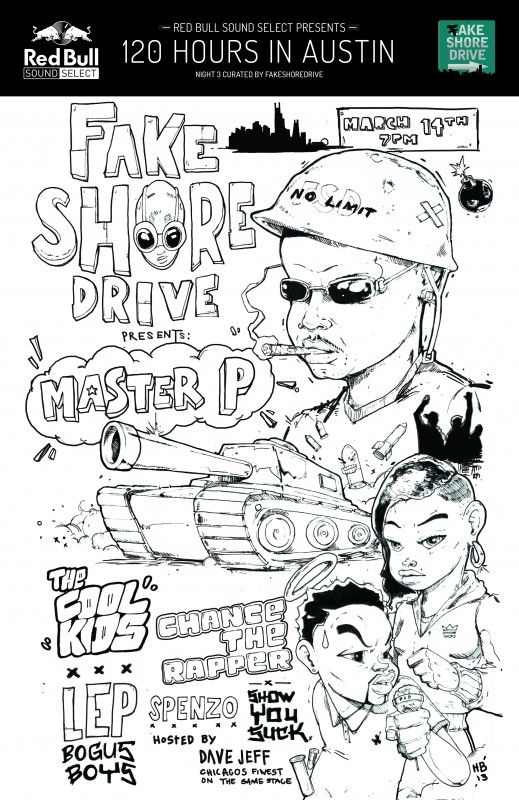 Artwork by Hebru Brantley
With the festivities in Austin, TX now less than a week away, it's only right that we bring to you our official lineup for 120 Hours In Austin. Fake Shore Drive was selected as one of five curators from across the country to host a show in Austin next week, so you know we had to bring you the best in Hip-Hop. We obviously have to rep for Chicago, with a bill stacked with some of the Chi's finest, but we also grabbed a special guest headliner, who is known to the world as the Colonel of the Tank. Yeah, we had to do that.
As well as P, The Cool Kids are back again for a reunion show of sorts, and are joined by the L.E.P. Bogus Boys, Chance The Rapper, Spenzo and ShowYouSuck.
We give you the FSD guarantee that it will be one of the best shows of the week, chock full of surprises and special guests. Trust us when we say this is something you won't want to miss.
Where: Gatsby's (708 E. 6th Street)
When: Thursday, March 14
Time: 4p-9p
Cover: FREE (no badges or wristbands required — any and everyone can attend)

Master P
The Cool Kids
L.E.P. Bogus Boys
Chance The Rapper
Spenzo
ShowYouSuck

Host: Dave Jeff
DJ: Manny Muscles
Artwork: Hebru Brantley
The winner of last month's Sound Select contest was ShowYouSuck, who will be traveling down to Austin courtesy of Red Bull and will performing on our stacked bill. Interested in attending our show? Well, you can RSVP right here, right now for free admission.