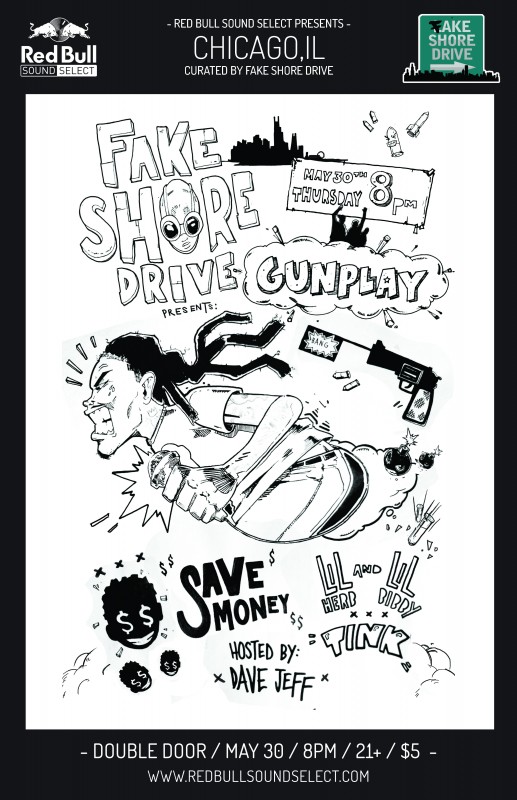 Artwork by Hebru Brantley
And we're back. FSD and Red Bull are returning with another installment of our Sound Select series, and after venturing down to Austin for SXSW, we're bringing the show back to Chicago for May. We sold out Bottom Lounge in February with Freddie Gibbs, Tree, ShowYouSuck and Sasha Go Hard; and we were over capacity in Austin with Master P, Chance The Rapper, The Cool Kids, LEP Bogus Boys, Spenzo and ShowYouSuck. So it's only right we keep the tradition going with another hot lineup for May.
We're bringing the 305 to the 312 as MMG/Def Jam artist, Gunplay, will be our Sound Select headliner. This is the first time Gunplay has ever performed in the City of Wind, so let's give him a warm welcome, as he preps the release of his MMG/Def Jam debut, Living Legend. Also on the bill we have the Save Money Army, which will feature an all-star set from Caleb James, Kami de Chukwu, Joey Purp, Tokyo Shawn, Dally Auston and Brian Fresco. Trust this is something you won't want to miss.
And rounding out the lineup is female emcee/songstress Tink, as well as rising emcees (and Heir Apparents) Lil Herb and Lil Bibby. Red Bull's Sound Select program seeks to promote the best unsigned talent in markets across the country, and we feel like this is the perfect group of artists rep the Chi. Dave Jeff will be handling hosting duties, while DJ Oreo will be on the 1s and 2s all night long.
Tickets are available now for the low, low price of $5. Yep, only $5.
Date: Thursday, May 30, 2013

Location: Double Door
1572 N Milwaukee Ave Chicago, IL 60622

Doors: 8pm

Age: 21+

Price: $5

Headliner: Gunplay

Sound Select:
Save Money [Joey Purp, Caleb James, Kami de Chukwu, Dally Auston, Brian Fresco, Tokyo Shawn]
Lil Herb & Lil Bibby
Tink

Hosted by: Dave Jeff
DJed by: DJ Oreo
Artwork: Hebru Brantley