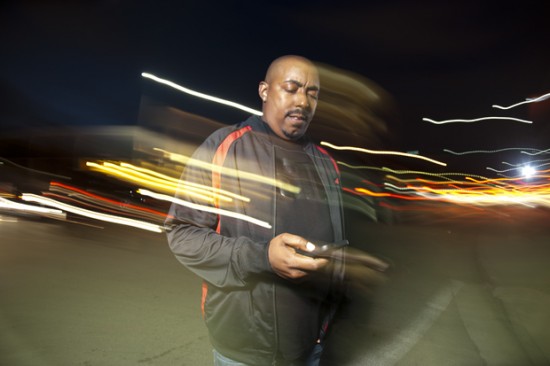 Chicago rap figurehead John Monopoly recently sat down with XXL to chat about a slew of topics. Most importantly, his recent shout out from Kanye on "I Am A God" from Yeezus. Also in the interview, he talks about how Kanye hooked up with King Louie, his recent split with Lawless Inc. (but it's all love) and how he's resurrected the Hustle. brand. Excerpts can be found below, and the full feature is available here.
"Monop' in this bitch, get a change of climate…" How'd you feel about that line and Kanye shouting you out?

[Laughs] Yeah, it definitely caught me by surprise. Don C had told me that he said it at the MET Gala, but I hadn't heard it until the other day. So, when I heard it I was really excited and just happy to know that you know me and my bro were back, getting you know, getting the work. You know how artists can be. And that's not necessarily with business, that's just with us being where we need to be, just to be clear.

So with that said, what's you relationship like with Kanye now, after that split you two a while back?

I mean that's my brother, you know. You know, we've done some stuff together, I'd rather not say really what's going on as far as our business or whatever we're doing. It's just I think we were apart for a while, and now I think we're kind of moving in the direction to be back in the original—. I mean, I don't know. I mean that's just my brother, and we were apart for a while, and we're not really apart like that no more. I'll just say it like that.
How did the Louie connection with Kanye happen?

Well, when I first signed Louie, I started playing him for people and when I decided that we were going to do some business I started telling my cousin Don, Don C, about you know, the new artist I was working with or whatever and him being, you know that's like my real cousin, so it's like we always support each other. And he made it a point to bring it to 'Ye early. Like this is something that I had announced I'm working on, and then he was a fan of Louie too, so it just made sense. He was like, "Yo I'm going to support you because you're my cousin, but I'm also going to support you because he is the ill new dude." So really this is all really speaks to Don making it a point to present Lou to 'Ye and then 'Ye just being a visionary and having that ear, he identified the same things that I had identified in Lou, you know what I'm saying. So that's really how it went down.

What's your situation with Lawless Management?

Well I, I've separated myself from Lawless. I don't have anything to do with Lawless anymore, but I wish them the best of luck. I still work with Louie in a management capacity, but yeah I don't have anything to do with Lawless. But shout out to Katie, because Katie's buzzing and I see her moving and I know she's going to blow and I'm so happy for her. And Bird is starting to get some traction too, so I'm sure they're going to be successful, and I wish the Lawless crew nothing but success. But yeah I don't have anything to do with that situation.

You're 100% invested in your management company, "Hustle."

Right. And that's that. Yeah, you know we're at 15 years, we started the company in 1998, and we're doing a big 15-year anniversary party. August 10th in Chicago. There's going to be a lot of surprise guests, a huge event you know what I mean, so I'm really excited about that. So yeah, it's the 15-year anniversary of Hustle and you're going to see a lot of exciting things this year and in years to come.