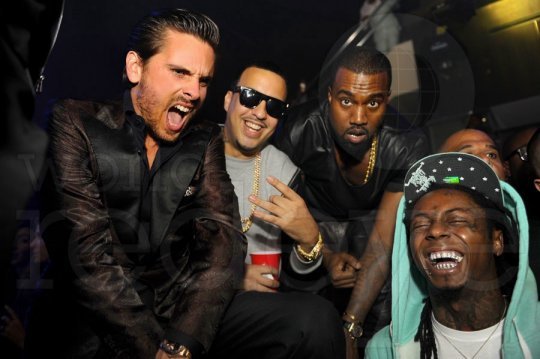 As we shift into full-blown Kanye-mania with his album just days away, In Touch magazine is reporting that Kanye and a posse including Scott Disick and Jonathan Cheban shot a viral video for the album in NYC this weekend that features an American Psycho theme.
Amidst birthday celebrations and a performance at the Governors Ball this weekend, In Touch can reveal that Kanye was hard at work shooting what he hopes will become a viral video to promote his new album, Yeezus, due out on June 18.

The theme of the video is none other than the family friendly motif of American Psycho.

"Kanye spent the weekend shooting an American Psycho-inspired video in Brooklyn with Scott Disick and Jonathan Cheban," an insider tells In Touch. "Jonathan actually gets killed in the end." The video, which was shot at Brooklyn Fireproof soundstages, is supposed to be released later this week in anticipation of his new album. "Kanye wants the video to go viral and drum up more publicity for his album," the insider reveals.

"Kanye is definitely on edge and nervous about how this album will sell. He won't promote it the normal way, and he wants to create buzz with all these weird, secret demonstrations."
Hope Huey Lewis makes a cameo.