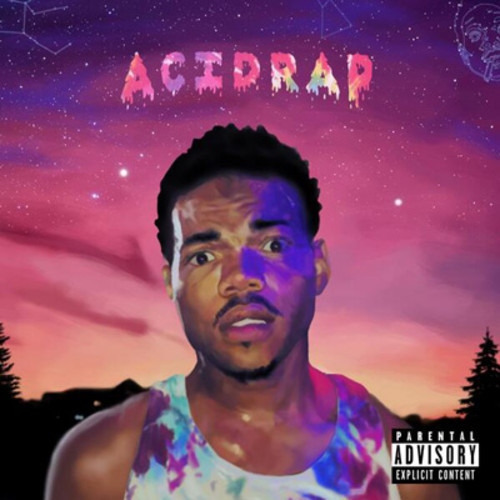 In today's WTF news, Billboard is reporting that illegally sold copies of Chance The Rapper's breakthrough project, Acid Rap, are selling so well that the album is now charting on Billboard's Top R&B/Hip-Hop Albums chart. If you're keeping score at home, then you'll know that Acid Rap is very much a free release, and hasn't been approved for retail use by anyone in Chance's camp. A mysterious company named MTC (Mixtape Coalition) is allegedly selling the project for $14.83 and is distributing it via Houston-based 1-Stop Distribution.
So it appears someone, somewhere is making a good amount of money off an Acid Rap bootleg — with Chance seeing none of the proceeds (not to mention no samples have been cleared). Over the past few weeks pictures of Acid Rap on store shelves began to surface, with the album popping up in cities across the US. What a mess. However, it does further prove just how popular Chance is at the moment.
Last month, a mixtape album by unsigned artist Chance the Rapper available as a free download landed at No. 63 on Billboard's Top R&B/Hip-Hop Albums chart, having sold 1,000 copies in the week ending July 7, according to Nielsen SoundScan. The collection of original music, "Acid Rap," was sold through iTunes and Amazon, despite having been offered for free on the artist's website since April 30. After representatives of the artist claimed that the sales were being made without their knowledge or compensation, digital versions of the tape were quickly pulled from both retailers. But on Amazon, an apparently unauthorized physical version of "Acid Rap," credited to a company called "Mtc," continues to be sold at press time for $14.83…

…"I've never heard of Mtc, so this has taken us by surprise," Chance's manager Patrick Corcoran says. "But when I first saw it I showed Chance, and his lawyers are trying to stop it."…

…1-Stop sells "Acid Rap" to larger distributors like SuperD, which in turn supply retailers like Amazon and others. Amazon didn't respond to several requests for comment. SuperD CEO Bruce Ogilvie admits that he knew little about 1-Stop or whether "Acid Rap" is a legal product. "It's a new world out there and there are always people trying to figure out how to break the rules," he says. "But if we find out someone is a bad actor, we shut them down. We don't need that headache."
Read the full piece here.
Update: Apparently the address for MTC (Mixtape Coalition) in Texas isn't a legit address, and no such company exists. The plot thickens.