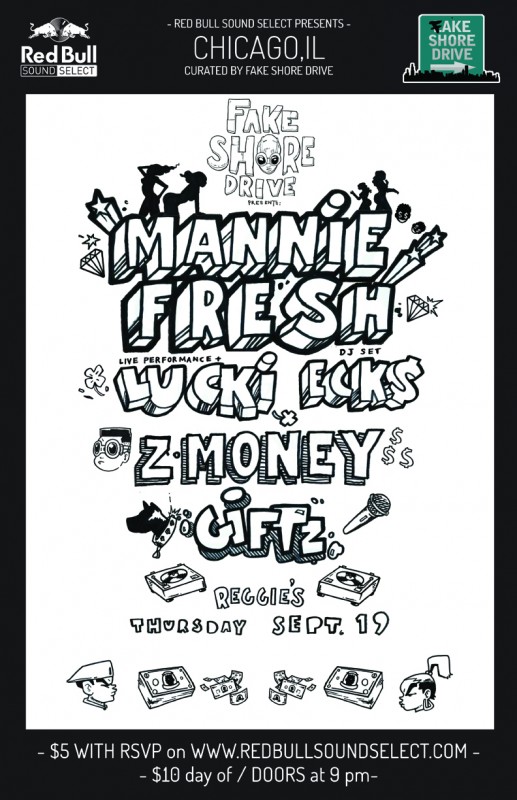 Artwork by Hebru Brantley
The last time you saw us was on the final day of May, but we're back in business for the fall  — TONIGHT to be exact. I don't need to spend too much time going through the FSD & Red Bull Sound Select resume, so let's keep it simple by running down a few of the acts we've brought you in 2013: Gunplay, Master P, Freddie Gibbs, Chance The Rapper, SaveMoney, Lil Herb & Lil Bibby, Tree, Tink, Sasha Go Hard, ShowYouSuck, The Cool Kids, Spenzo and L.E.P Bogus Boys — just to name a few.
So it's only right that we carry on tradition with our last Sound Select of 2013, with this stacked lineup featuring the first ever live performance of the phenom Lucki Eck$. He's joined by his fellow Complex Magazine 25 New Rappers To Watch Out For alum, ZMoney. And rounding out the bill is the red hot Giftz, who is coming off the release of his latest opus, Position of Power. 
For the headlining spot, we're proud to bring the living legend, Mannie Fresh, to Chicago for his first ever live performance + DJ set in the Windy City. The former Cash Money Millionaire will be performing his string of hits as a Big Tymer and solo artist on Cash Money Records. He'll also be spinning the best of bounce, hip-hop and everything in between. His DJ sets are the thing of legend, so trust this will be one event you won't want to skip.
As always, Dave Jeff will be handling hosting duties, while MattBoyWhite takes care of business on the turntables. And like we always do about this time, the first 100 people in the door will get poster-size prints of the Hebru Brantley artwork you see above.
Date: TONIGHT Thursday, September 19, 2013

Location: Reggie's Rock Club
2105 South State Street, Chicago, IL 60616

Doors: 9pm

Age: 17+

Headliner: Mannie Fresh [live performance +DJ set]

Sound Select:
Lucki Eck$
ZMoney
Giftz

Host: Dave Jeff
DJ: MattBoyWhite
Tickets are only $5 right now if you RSVP at the Red Bull Sound Select site. Tickets will be $5 at the door TONIGHT until 10pm. After 10pm the ticket prices will jump to $10, so be sure to get there early.