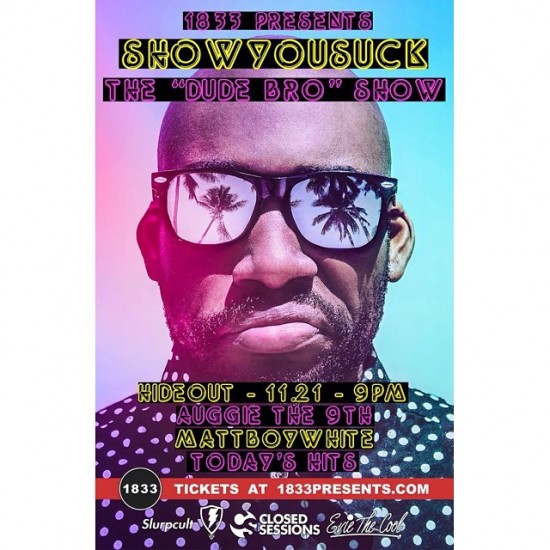 On Thursday, November 21st, ShowYouSuck hits The Hideout for his release party of his dope new EP, Dude Bro. The concert is brought to you by Closed Sessions and 1833 Presents and is a 21+ affair. Auggie The 9th and MattBoyWhite are also on the bill, and you can purchase tickets for $10 right now.
1833 PRESENTS
SHOWYOUSUCK
Along With
AUGGIE THE 9TH
MATTBOYWHITE
TODAYS HITS
THURSDAY NOV. 21st
HIDEOUT
9PM | 21+
Today, the good people at FSD have two pairs of tickets to giveaway to two lucky readers. Hit the jump to find out how to win.
To win, you must be the first person to correctly answer the trivia question below, and Tweet me (you must follow me so I can DM the winner) with the hashtag #FSDGiveaway. @fakeshoredrive must be included in your tweet to win.
What is the name of ShowYouSuck's full album that is to drop after Dude Bro?