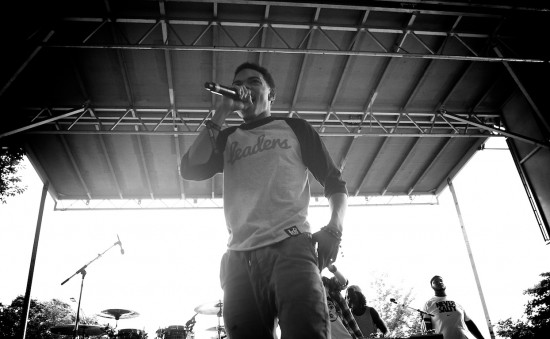 After Spin Magazine named Acid Rap their second favorite album of 2013, it comes as no surprise that they'd crown Chance Le Rapper their 2013 Rapper Of The Year. The accolades continue to rack up as the Chance train becomes seemingly unstoppable. Here's what Spin had to say about their reigning champ:
On the cover of Chance the Rapper's Acid Rap, the 19-year-old rapper is lost in the woods, purple sky looming, his eyes wide, mind contorted. This is what one of hip-hop's most elite word-for-word, bar-for-bar rappers looks like in 2013: incredibly young, existentially confused, undoubtedly tripping balls, and rocking a tie-dye tank top. He's from Chicago — the notorious South Side, to be exact — rather than the traditional spitter center of New York City, and he is, along with a number of other youthful word nerds (and long-gestating veterans), pulling "lyricism" out of the codified pit of "real hip-hop" cliché and throwing it across every nook and cranny of the rap landscape.

Acid Rap (no. 2 on our 50 Best Albums of 2013 list) is an impressive, arresting display of furious styles, but it's also a well-observed and deeply empathetic album about growing up and trying to be decent — a good kid in a mad Midwestern city — whose songs inhabit a series of lost and half-found characters: wounded addicts, lusted-over high-school lab-mates, feckless dealers, a sweetheart dad, and young couples in love. It's got an open-eared palette of sub-regional sounds, crooned hooks, and vivid storytelling — one of those sprawling masterpieces you can't ignore. But a key element to its success is unquestionably old-fashioned, pen-and-pad writing and verbal acrobatics.