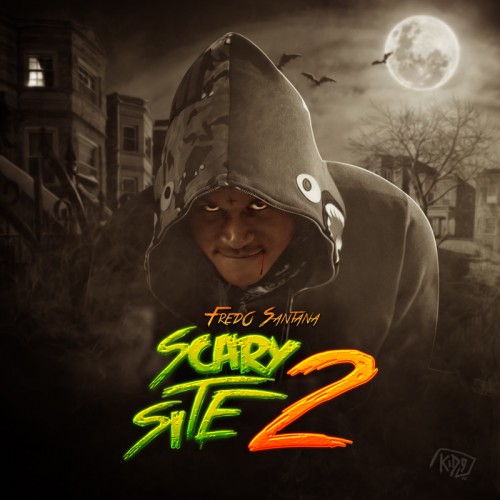 In September of 2012, Fredo Santana gave the world his debut and highly anticipated mixtape, It's A Scary Site, and a star was born. Big Boss Fredo took a dope line from Lil Reese on "I Don't Like," and has turned it into a hot career and an insanely popular and memorable catchphrase.
Bringing things full circle, Fredo is dropping the sequel to the project tomorrow, It's A Scary Site 2. The mixtape will be available tomorrow at 3pm CST, and includes 17 brand new bangers. Lex Luger, Dirty Vans, Cardo, DJ Kenn, MPC Cartel and others show up to lace Fredo with production, while Lil Herb, RondoNumbaNine, Lil Mouse, Boss Top, SD, Gino Marley, Ballout, Capo, Tray Savage and Tadoe feature.
Hit the jump to check out what to expect of Fredo's latest masterpiece. It's pretty damn scary.
1. Kill You (Prod. by Dirty Vans)
2. I Might Just f/ Tadoe (Prod. by Dirty Vans)
3. Shit Real f/ RondoNumbaNine (Prod. by CashMoneyAp)
4. Always f/ Lil Herb & Capo (Prod. by Zaytoven)
5. Damn Shame f/ Lil Mouse (Prod. by MPC Cartel)
6. Crack Pot f/ Boss Top (Prod. by Deezy)
7. Bird Talk (Prod. by G5 Kid Murph)
8. Got My Bands Up (Prod. by Murda Beatz)
9. Ain't Nothin' (Prod. by Marvin Cruz)
10. I'm On Top (Prod. by DJ Kenn)
11. No Hook (Prod. by Lex Luger)
12. So Long (Prod. by Marvin Cruz)
13. Street N*ggaz f/ Gino Marley & Ballout (Prod. by Lex Luger)
14. Like Whoa (Prod. by DJ Kenn)
15. Who The Shit? (Freestyle) f/ SD, Gino Marley, Tadoe, Capo & Tray Savage (Prod. by Zaytoven)
16. Get'em In The Drought f/ Sixx (Prod. DJ Kenn)
17. Money Keep Tellin' Me (Prod. by Cardo)