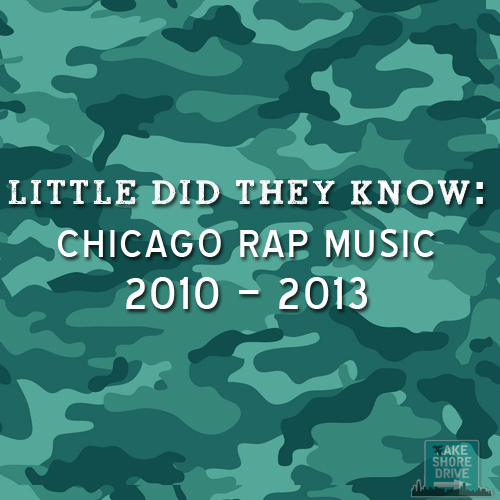 A Story by Holiday Kirk (@holidaykirk)
As the fourth year of the new decade approaches, it's time to take a look at how far this city has developed musically in only a few years. These articles serve a dual purpose: to act as a time capsule moving forward, and to capture the thrill of the moment. Our city full of haters is becoming an undeniable cultural force — we're rewriting the game and the whole world is watching. This is Chicago and this is our music.
2010 breathed new life into the Chicago rap scene but it didn't restore a pulse immediately. If you weren't watching closely, 2011 appeared to be the return of the status quo as the city receded once again from the national spotlight. But the stirrings of new life were beginning to thump at the ceiling, even if it would take another year for it to finally shatter.
Lupe Fiasco had been promising a follow up to 2007's The Cool for nearly two years, originally billed as a triple album called LupE.N.D. then The Great American Rap Album then, finally, Lasers. Lupe had been having problems with his record label, Atlantic Records, since the beginning of the project. Atlantic was pushing for a more commercial sound and Lupe wasn't having it. By all accounts the recording sessions for the album were hell on earth. Speaking to The Guardian, Lupe confessed that the process made him "super-depressed, lightly suicidal, at moments medium suicidal and if not suicidal, willing to just walk away from it all completely." It took a petition with over 30,000 signatures to finally convince Atlantic to release Lasers. Despite the controversy surrounding the project, Lasers was certified gold, and gave Lupe the first number one album of his career, moving over 200k copies in its opening week. This first single, "The Show Goes On," was also a major hit, as it now stands at three million digital copies sold.
The year's triumphs came from some interesting sources. Much like Be was an epic recovery after Electric Circus (even though in hindsight, Electric Circus was pretty good and ahead of its time), The Dreamer/The Believer found Common bouncing back from 2008's thoroughly confused Universal Mind Control. Reinvigorated by longtime collaborator No I.D. Common turned in his most focused and consistent project in years. The project is reverential to Common's long and storied career without feeling nostalgic. Even better, Common writes his ass off all over The Dreamer/The Believer. At one point he claims to be "I'm Tutankhamun kicking it, spending this rap money." "Celebrate" is Common's strongest single in years, perfectly evoking the feeling of a warm gathering inside while lake effect winds rage outside.
In August 2010, Kanye West dropped a tweet stating that him and longtime collaborator Jay-Z were going to release a 5 song EP called Watch the Throne. During a live webcast following the premiere of his Runaway film, Kanye announced that the EP had been upgraded to a full-length release. Of course, during the same interview he also announced a possible Saturday morning cartoon and broadway play so fans had ample reason to be skeptical. From Ghostface and MF Doom to Lil' Wayne and Juelz Santana, rappers announce collaboration albums all the time and rarely do these ever pan out. The idea of two billion volt stars like Kanye and Jay-Z finding time in each other's schedules seemed impossible. But once lead single "HAM" was released in January, it became clear that this was actually going to happen. Watch the Throne was recorded all over the world, in studios from New York City to Paris, France. Many tracks were dashed off in hotel rooms while Jay was on tour. The two argued over everything from sequencing to direction while legendary producers like The Neptunes and Swizz Beats were shuffled around the globe to contribute.
[Click Below For Next Page]