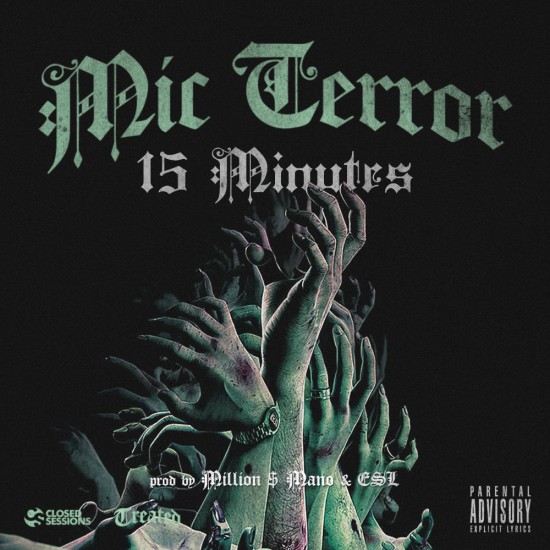 "15 Minutes" Produced by Mano and ESL.
Mic Terror has been a fan favorite on FSD since the inception of the site. The Treated Crew repper has given us a number of stellar projects over the past few years, including the dope Treated album that dropped last year. But he's back with his first solo project in two years, Fresh Prince of Darkness, which also serves as his official debut album. For this monumental release, he's joined forces with Chicago outfit, Closed Sessions Records, who will be dropping the record in early 2014.
We caught up with Mic T to talk about his first release from the project, "15 Minutes," as well as snagged the premiere for the track. Click below to check out our interview, and to hear the new Mic Terror. Warning: he's taking no prisoners on this one.
FSD: Why did you decide to partner with Closed Sessions for the new project, Fresh Prince Of Darkness?
Mic Terror: Stranger danger , and no new friends is the motto, basically. I've met a lot of untrustworthy mother fuckers  in my adventures in music. Closed Sessions, RTC and Mike (Kolar), were always trustworthy and I know they know what to do to get the job done. I got the deal I wanted, and I felt it was good for not just us but Chicago as a whole. We can get this shit RIGHT HERE in the Chi, and control our own destinies.
FSD: You've been teasing us with this project for years. Why is this the right time to drop it now?
Mic Terror: I've been holding on to this album title since 2009, when one of my fans told me my swag was like an evil Will Smith. That's how I came up with Fresh Prince Of Darkness. It resonated with me. My existence is an oxymoron, I'm a "well spoken street n*gga," a "nerdy gangster" — that is me. I always said it would be my debut LPs title and now it's that time.
FSD: You haven't dropped a solo project in a couple of years. Last year you were focused 100% on the Treated Crew project, which was one of the year's best. Do you still feel like you have a lot to prove musically as a solo artist?
Mic Terror: Still focused on Treated and building our brand.  There's a new Treated LP dropping in 2014 as well. I have a lot to prove, definitely. I want Kendrick's head. I want Drake's head, and any other mother fucker out here rapping and getting money that I believe myself to be better than or equal too. It's time to prove I'm one of the best ever.
FSD: How does this differ from your previous projects, or is this a back to basics?
Mic Terror: This is an amalgam of ALL my previous projects. I know what the people like most from me in all my different sides, and I'm giving them the best of each of those attributes: the MC, the ladies man and the philosopher.
FSD: What can be we expect from the new album? Is Mano producing the whole project?
Mic Terror: Mano produced the bulk of the project, but I have a lot of super dope producers on #FPOD. Ryan ESL, this dope motherfucker out of Texas, has a lot of production on the album. Yo G Money has a dope record called "No Panties," that I made with my home girl Lucci Vee. M Stacks, Cardo, Mo N Velli, Doc Da Mindbenda , Illiad. I got my lil big homie Caleb James aka R. Caleb crooning on the album. Treated Crew is on there heavy, Thurzday, too. I have a lot to say that no other rapper will say that needs to be heard.
Fresh Prince of Darkness is due out next year on Closed Sessions Records. Check out "15 Minutes" below, and grab the song on iTunes right now. Support your local artists and labels.